Senator John Cornyn Update on Health Care, the Economy, Securing the Border, and Immigration Reform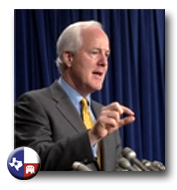 Over the past few months, I've heard from Texans of all walks of life during visits throughout the state, through phone calls, letters, emails and comments on Facebook and Twitter. What I'm hearing consistently is an outright concern with Washington's misplaced priorities. While the jobless rate in Texas has fared much better than other states during the recession, there are still too many Texans looking for work. And instead of putting policies in place that will create new opportunities, Washington has been on a spending spree creating programs and policies that will kill jobs - not create them.
Health Care & The Economy
Chief among these job-killing policies is the new health care law, which passed with special interest payoffs and backroom deals. The bill was opposed by 34 Democrats and failed to garner a single Republican vote. There are many ways this new law will hurt our economy, but the most alarming implication is that for America's small business owners – the lifeblood of our economy. Small business owners can expect to be fined $2,000 per employee if they do not provide Washington-approved health care coverage. At a time when we need to be providing small businesses with incentives to grow and create jobs, the new health care law does exactly the opposite.
Securing The Border & Strengthening Trade
Just as important as ensuring economic security, a top priority must be homeland security - specifically with regard to our southern border.
I recently traveled to El Paso to hear firsthand from law enforcement and border security personnel in light of increased cartel and gang-related violence in Mexico. I wanted to hear from these men and women directly about the challenges they face and the resources they need to do their jobs and keep Texans safe.
What I heard repeatedly is that they are in urgent need of more boots on the ground and more federal resources to equip personnel with the latest technology to secure the border. Following my meetings with local and state law enforcement, DEA, FBI, ICE, ATF, and DoD, I introduced legislation that would fast-track new funding directly to law enforcement within 100 miles of our southern border. The Southern Border Security Assistance Act would create a $300 million border grant program to quickly secure additional hires, new equipment, and upgrades to critical information systems.
While politicians in Washington continue to talk about cartel and gang-related violence, this talk means nothing until we follow through and deliver the resources our law enforcement officials need to keep border residents safe and our trade corridors open and secure. I'm hopeful my border funding bill, along with legislation I introduced earlier this year to reduce delays at our ports of entry, will receive wide bipartisan support and swift passage so we can deliver these critical funds to the border as soon as possible.
Immigration Reform
For too long the federal government has abdicated its role when it comes to securing our border and enforcing immigration laws. As violence in Mexico continues to escalate, including 3,365 lives lost from January to March of this year alone, Washington can no longer delay its responsibilities when it comes to border security.
I have and will continue to push the President and Democrat leaders to take action to boost security and support President Calderon in his war against the cartels. I was pleased to see the Administration send a team of high-level delegates to Mexico City to meet with their Mexican counterparts and demonstrate our readiness to support them. But one high-level meeting is clearly not enough. Federal resources are needed immediately, including the use of U.S. military drones to patrol the border. As it stands, the FAA has been dragging its feet when it comes to issuing the certificate of authority for use of U.S. drones along the border - none of which are currently deployed. Sen. Hutchison and I have written to the FAA Administrator urging him to move swiftly to open up the relevant airspace so these drones can begin to monitor the region.
Once we have accomplished securing the border, we must take long-overdue action on immigration reform. This issue is yet another that receives plenty of political lip service in Washington, but no tangible action. As ranking member of the Judiciary Subcommittee on Immigration, Refugees and Border Security, I have voiced my willingness time and again to work together with Members who are seriously committed to moving forward on comprehensive immigration reform. To date, however, I have yet to receive any legislative text from the President or Administration. Instead, I have to turn to the news to learn about a 26-page outline proposed by Senators Reid, Schumer and Menendez. This outline seems more like a politically-timed blueprint, rather than a serious move, advanced by the President, to begin the immigration debate in earnest.
As you know, I have long made my own principles clear when it comes to immigration reform. I recently wrote a letter to Cardinal DiNardo outlining these principles. My ongoing dialogue on immigration and other issues with Cardinal DiNardo and other Catholic leaders has been extremely helpful for me, and I will continue to rely on their valuable input. We agree on several fronts – namely that our system is broken and needs to be fixed, and that restoring the rule of law and treating immigrants with dignity are not mutually exclusive choices. Both are central to delivering reform that's worthy of this great nation. As I've said before, in order for immigration reform to truly take root, we are going to need President Obama to step forward and lead on this issue.
As always, I look forward to receiving your input. Please continue to share your ideas, concerns and priorities with me via email, letters, or phone calls. You can also contact me via Facebook and Twitter. I pledge to continue to work with and for you to advance Texas' best interests on the federal level and ensure a more prosperous and secure future for all Texans.
For more information on these and other topics, go directly to my Web site. I also welcome the opportunity to connect through Facebook, where I share updates, articles and videos related to my work in the Senate on a regular basis.To view floor speeches, interviews and other video messages from me, please visit my YouTube Channel. To receive additional updates, please select the issues that interest you listed on the right. It's an honor to serve you in the United States Senate.