Should a State Legislator be indebted to ACORN?
by Bob Price
on September 16, 2010 at 11:31 AM
---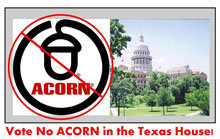 The Republican Party of Texas announced that the Democrat State Representative from District 133, Kristi Thibaut is receiving huge donations to keep her seat from liberal interest groups, labor unions, trial lawyers and yes, even from ACORN!
Watch this video from KristiWorksForACORN.com

Kristi is in a race with former Texas State Legislator Jim Murphy who is running to reclaim this seat for Conservative Republicans. Murphy was originally elected to the Texas Legislature in 2006 and was knocked out in the "Obamawave" of 2008. It is time for us to put this seat back in Conservative hands and help increase the Conservative margin in the Texas Legislature. With redistricting becoming the major issue for the 2011 legislative session it is increasingly important that we win every seat we can this year!