Smith Co-Sponsors Bill to Allow Energy Exploration in Alaska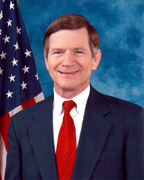 Tuesday, I co-sponsored H.R. 49, legislation to reduce our dependence on foreign oil and create American jobs. This legislation would allow energy exploration in Alaska's Arctic National Wildlife Refuge (ANWR) region, which would create up to 750,000 American jobs according to expert analyses.
This legislation would help ease the burden of rising gas prices on families and small businesses by developing more of the energy resources we have in the U.S. Increasing domestic drilling will help us meet our energy needs and create more jobs in the U.S. It is vital that we boost our energy independence and put more Americans back to work.
I support an all-of-the-above energy approach that uses domestically-produced oil, coal and natural gas, as well as alternative energy sources such as wind, solar, hydropower and geothermal to create more American jobs and lower energy prices.