Smith Seeks Investigation on the Politicization of NASA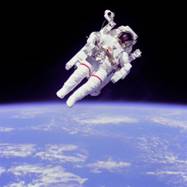 As vice-chair of the Space & Aeronautics Subcommittee of the House Science, Space and Technology Committee, today I called for NASA's inspector general to investigate the politicization of the agency. This stems from a NASA-internal report showing that Obama Administration political appointees "focus on Democratic political goals, not national goals," creating a dysfunctional and hostile work environment for NASA's career civil servants.
I am disturbed by the findings in this report, as scientific and technical agencies like NASA need to work freely of political ideology to the greatest extent possible. We should not play partisan politics with our nation's space program. I am calling for an investigation to see if any improper actions have been taken to steer agency funding and contracts, circumvent the civil service hiring process, or if other mismanagement of agency resources has occurred to benefit 'Democratic political goals.'
NASA represents the best of America's ingenuity, exploration and discovery. As Neil Armstrong testified before the Science Committee two weeks ago, the current condition of NASA's manned spaceflight program is 'lamentably embarrassing and unacceptable', and this internal NASA study provides disturbing insights into the tension between NASA's senior career managers and Obama Administration political appointees. All of NASA should be working together to strengthen our space program and bolster America's human space exploration.
I asked that a report on the investigation's findings be submitted to the Science Committee within four months.