Smith Statement on Super Committee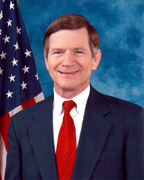 I released the following statement today regarding the announcement that the Joint Select Committee on Deficit Reduction has failed to reach an agreement.
It's disappointing that the members of the Joint Select Committee on Deficit Reduction weren't able to reach an agreement. I know that my Republican colleagues negotiated in good faith and did everything possible to reach the Committee's goal. Republicans on the Committee did not support tax increases, which would make our economy worse, but they were willing to consider new tax revenue as long as it was through reforms that would make the tax code more fair and competitive.
Unfortunately, Democrats on the Committee insisted on tax increases and did not put forth a plan to seriously address rising health care costs. A majority of House Democrats also recently voted against a Balanced Budget Amendment to the Constitution, which would impose the fiscal restraint necessary to rein in federal spending. President Obama and Congressional Democrats would rather continue the policies that have led us to a $15 trillion national debt and an unemployment rate that continues to hover above 9 percent.