State of the Economy Update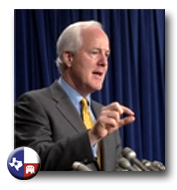 From an ailing economy to rising health care costs— this year has seen many difficult challenges for Texas families, working men and women, and small business owners. Fortunately, Texans have a long history of hard work, ingenuity and perseverance that has helped them overcome difficult times. Over the past several months, I've visited with Texans from all walks of life, and though many are facing similar challenges, I'm confident that Texans are on the path to overcoming these trials and emerging even stronger and more successful. As your U.S. Senator, I want to continue working to ensure your voice is heard in Washington and putting policies in place that complement your hard work and pave the way for brighter days ahead.
While issues of importance tend to vary regionally and demographically in Texas, there are few core issues that tend to rank highest on the list for the majority of Texans I've visited with. These include the economy, education, and health care.
Most Texans I've heard from are deeply concerned with the high unemployment rate and the economic downturn our nation has experienced over the past year. Thanks to pro-growth policies and a friendly business environment, Texas has fared better than most states, but we have certainly not been immune to the effects of our nation's recession. While the national unemployment rate has inched close to 10 percent, the unemployment rate among Hispanics, who make up more than 35 percent of our state's population, is considerably higher, at 12.7 percent nationwide. I have met and spoken with dozens of Hispanic business leaders in recent months. We've discussed the state of the economy and ways we think it can be strengthened. Unfortunately, many in Congress think the answer is to max out the government's credit card and borrow more and more money. In fact, 43 cents out of every dollar spent by the government every day is now borrowed. Earlier this year, Congress passed a $1.1 trillion spending package billed as a way to create jobs. When the President first began selling the idea of a stimulus to Congress and the American public earlier this year, he said it would create 4 million jobs and keep unemployment from exceeding 8 percent. Since that point, more than 3 million Americans have lost their jobs. Texas alone has lost 300,000 jobs.
In talking to business leaders across the state, we agree that the best prescription for a hurting economy is providing tax relief and incentives to small businesses – the number one job creator in the country. Texas is home to more than 2 million small businesses, with Hispanics owning more than 300,000 firms in our state. We need to continue the common sense policies that have made Texas an attractive place for these small businesses to take root and grow, including keeping taxes low, keeping regulation to a minimum, and continuing to make sensible legal reforms.
Another key to strengthening our economy for the future is investing in our young people. Today's students will be tomorrow's leaders in business, government, and education. For many low-income and minority young people in Texas, however, it is difficult to afford tuition and the other expenses associated with attending college. In fact, a recent study by the Pew Hispanic Center finds that 40 percent of Latinos surveyed, aged 16 to 25, said they could not afford higher education. Nearly two-thirds of those surveyed said they had to leave school early because they needed to work to support their families. I believe we need to find ways to make college more affordable and accessible for all students. I have been a strong supporter of programs such as Pell Grants that help low-income students afford a quality college education. I supported the creation of a $4.5 billion education grant program for students pursuing degrees or majors in math or science. I also support the important efforts of Hispanic Serving Institutions (HSI), which play a vital role in enrolling Hispanic students in higher education and helping them to achieve their goals. I worked with the Hispanic Association of Colleges and Universities and the Senate Health, Education, Labor and Pensions committee to eliminate the two-year wait-out period for HSIs applying for Title V grants. I also supported legislation to provide HSIs with access to funding for digital and wireless technology. I have also worked to help secure funding for the Community Based Job Training Grant program, which provides competitive grants to community colleges for workforce training partnerships with local businesses and industry.
Just as important as investing in their education, we must also be good stewards and not pass insurmountable debt onto our children and grandchildren. Unfortunately, current leadership in Washington is intent on doing just this. The health care proposal pending before Congress would cost taxpayers well over $1 trillion once fully implemented— a bill that will most certainly be passed to future generations. In addition, the proposal would raise premiums on individuals who currently have private insurance, raise taxes on middle class families, and cut Medicare benefits for seniors. When the debate on health care reform began, I looked forward to taking the input I've heard from Texans with me to Washington to work together with my colleagues in Congress to enact real reforms to bring down health care costs and open doors to quality health care for more Texans. Unfortunately, the ideas I proposed were refused, and the end-product is an extremely partisan proposal that raises taxes, raises premiums, and cuts Medicare benefits. This is not real reform.
The number of uninsured in Texas is unacceptably high, and many families in Texas are going without essential health care services, such as preventive screenings and immunizations that can save lives and prevent disease. There are many ways we can improve our health care system, and some of the best ideas are already in motion in Texas. We need to support our state's Federally Qualified Health Care Centers, such as Austin's Community Care or San Antonio's Centro Med, both of which I visited earlier this year, that provide affordable health care services to Texas' uninsured and medically undeserved. We need to enact meaningful tort reform, which has attracted hundreds of doctors to Texas' rural and border communities since it was implemented in 2003. We need to enact reforms that help small businesses provide affordable coverage to their employees, including state-based reforms such as the Healthy Texas initiative. We need to focus on prevention and wellness for all generations of Texans, encouraging individuals to exercise, eat well and lead healthier lifestyles. And we must increase enrollment of low-income children in the State Children's Health Insurance Program, or SCHIP, which currently has the ability to cover the health benefits of an additional 800,000 children in Texas that have yet to enroll in the program. There are many areas where we can work together to make health care more affordable and more accessible, and I will continue working toward those solutions.
It has been a year of serious challenges, but they are not insurmountable. I still believe that America remains a land of opportunity, and more specifically— Texas. I look forward to continuing to hear from you as we work together to create a brighter future for our children and grandchildren.
For more information on these and other topics, go directly to my Web site. I also welcome the opportunity to connect through Facebook, where I share updates, articles and videos related to my work in the Senate on a regular basis.To view floor speeches, interviews and other video messages from me, please visit my YouTube Channel. To receive additional updates, please select the issues that interest you listed on the right. It's an honor to serve you in the United States Senate.