Statewide Gubernatorial Debate Between GOP Candidates Tonight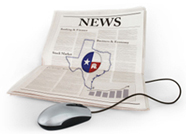 Remember to tune in to the Texas Gubernatorial debate between the Republican candidates Rick Perry, Kay Bailey Hutchison, and Debra Medina tonight at 7pm.
"The Belo Debate" will originate from WFAA studios in Dallas and air live on KHOU Channel 11, as well as other Belo Corp. television stations in San Antonio (KENS), Austin (KVUE) and on Texas Cable News (TXCN). The one-hour debate will also be streamed live on the Web sites operated by Belo broadcast and cable companies, and on the Web site operated by A. H. Belo Corporation's newspaper, The Dallas Morning News.
As the debate streams live on khou.com, viewers can participate in a live online chat with 11 News Political Analyst Bob Stein. On Friday, KHOU will also initiate a mobile texting poll during 11 News at 5, 6 and 10 p.m. offering a glimpse of voter sentiment before the March primary.
11 News anchor Len Cannon will serve as a panelist for the debate, along with senior political writer Wayne Slater of The Dallas Morning News and news anchors Sarah Lucero of KENS and Terri Gruca of KVUE. WFAA veteran news anchor John McCaa will serve as moderator.
Spanish stations and public broadcast stations in Belo markets will be permitted to carry the debate live. Outside Belo markets, all television stations may carry the debate live. Radio stations, regardless of their market location, may broadcast the debate and will access the audio via the satellite feed. Spanish audio will be available on the SAP channel.