Steve Wynn's Interview - A Surprise to the White House!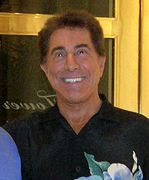 Dear Colleagues, Greetings! Please take the time to watch this video.
Who is Steve Wynn, and why is he saying this?
What's equally amazing is that CNBC actually aired this—CNBC, one of the White House's favorite propaganda machines!
It was not even 2 hours after Steve Wynn's interview that he received an invitation from the tenants at 1600 Pennsylvania Blvd, Washington, DC 20500 wanting him to explain in person why he said what he said!
Below is a short interview with Steve Wynn. Some of you know of him. He's a multi billionaire, hotelier and real estate investor in Las Vegas, Asia and Macau. He's been a guest from time to time on all the network financial news programs.
If you listen to this recent interview (short & to the point) and nothing else today, you will be better informed than your neighbor about the state of the union.
I would suggest sharing this with your children so they know what to expect once they're faced with the results.