Cornyn Response to the President's Speech Addressing S&P Downgrade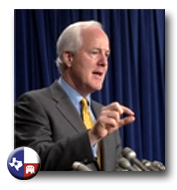 Today, I issued this statement following the President's speech today addressing Standard & Poor's downgrade of the U.S. credit rating:
Standard & Poor's warned us in April, and again in July, that absent serious fiscal reforms, our credit rating would suffer. The President responded by failing to produce a plan, while Senate Democrats responded by blocking the one proposal that may have averted a downgrade.
The Administration continues to play the blame game, and now offers only the promise of a plan. Rather than condemning S&P officials or demagoguing House Republicans, the American people want to see this Administration, for the first time, pull its collective head out of the sand and take this crisis seriously.
The recent downgrade and the President's track record of failed economic policies only reaffirms my belief that Washington requires a straitjacket on federal spending, in the form of a balanced budget amendment.