Our Government's Irresponsible Funding Model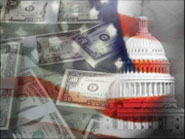 As you know, Congress had a big decision to make last week. Our government funding was set to expire on Thursday at midnight, so we had to pass legislation to pay for federal programs by then. Congress passed a deal right up against the Thursday night deadline to fund our government through September 2015. But I voted against this $1.1 trillion spending bill. Passing a last-minute deal at the 11th hour doesn't allow us to give our spending the thorough consideration it deserves.
And at a time when we've topped $18 trillion in debt, we need to be thorough. I hope in the next Congress, with a Republican House and Senate, we can discuss our budget and each appropriations bill in a timely fashion, so we aren't in this position again.