Support Growing in Washington for Immigration Reform?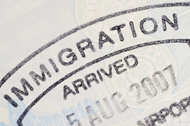 If you missed my visit with Americans for Immigration Reform Chairman Charles Foster, you can check it out here. Charles has been meeting with Democratic and Republican lawmakers, and he's getting a sense that there is more support for moving forward with sweeping immigration reform.
Click here to listen to the conversation and feel free to share your thoughts in the comments section below.