Texas GOP Featured Voice: Eva Guzman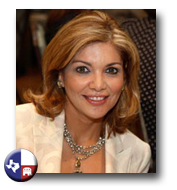 Eva Guzman is a judge on the Texas Supreme Court, a position she was recently appointed on October 8, 2009 by Governor Rick Perry to fill the seat vacated by Scott Brister. She is the first Latina woman to serve on the court.
On appointment, Governor Perry said,
Justice Guzman is known throughout legal circles as a strict constructionist with an unmatched work ethic, and has demonstrated a proven record of sound jurisprudence. I am proud to appoint this principled, conservative judge as the first Hispanic woman on the Supreme Court of Texas.
Eva was born in Chicago but raised in Houston and is the daughter of Mexican immigrants who had only elementary school educations
A graduate of the South Texas College of Law, Guzman practiced family and civil law for ten years before she was appointed as a Harris County Family Court judge by then-governnor George Bush in 1999. She also served on the Houston-based Texas 14th Court of Appeals.
Eva Guzman is an adjunct professor at the University of Houston Law Center and has also been actively involved with the Harris County Republican Party.
She's been named "Judge of the Year," "Latina Judge of the Year" and "Appellate Judge of the Year" by various groups during the course of her career.