Texas GOP Featured Voice: Kathleen McKinley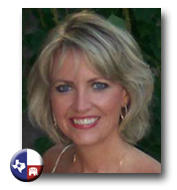 Kathleen McKinley is a self-proclaimed political junkie, a volunteer, and an activist. She writes for Texas Magazine (print and online), Newsbusters, RightWingNews, and the Houston Chronicle. She also has her own site: kathleenmckinley.com
McKinley co-hosts a radio show called "Smart Girl Nation" every Tuesday night at 8pm central, 9pm eastern (available on iTunes) on RFCradio.com.
She is a child of integration, former Democrat, now a Republican pro-life Catholic. She was in college when Reagan was elected, and changed everything for her. "It's all about freedom and liberty baby."
"It's MUCH more important to focus on the issues that unite us, and there are so many. We are united together against an over reaching government, overspending, border security, deficits, government waste, national security, liberty, creating jobs and over taxing."

You can follow Kathleen McKinley on Twitter.
Source: http: kathleenmckinley.com