The Texas Governor Debate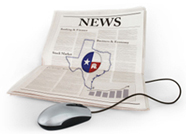 Rick Perry, Kay Bailey Hutchison, and Debra Medina will be square off in The Texas Debates: Race for Governor on Thursday, January 14 at 7:00 p.m.!
The live debate broadcast to millions on television, radio and online throughout the state will include two-term Texas Governor Rick Perry, three-term U.S. Senator Kay Bailey Hutchison and former Wharton County Republican Party chair Debra Medina
Click here to find which television station the debate will be broadcasted on in your local area.