Texas House amends, passes voter ID bill despite Democratic resistance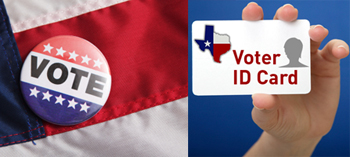 The Texas House made amendments to SB 14, also known as the Voter ID bill, before ultimately passing the bill 101-48. Sixty-three amendments were proposed in total to the bill yesterday, with only a handful being adopted.
Thankfully the adopted amendments were fairly reasonable, such as allowing someone who recently lost their ID in a natural disaster to vote and striking the clause allowing those aged 70 or older to vote without ID.
Even after the reasonable amendments, I am still completely baffled as to why this bill was met with a strong resistance from the Democratic Party. While I can usually understand the left's reasoning behind opposing certain bills, their reasons for opposing SB 14 do not make ounce of sense to me.
With more than enough Mickey Mouses registered to vote in the 2008 General Election and vote harvesting a major problem in many parts of the state, a Voter ID bill seemed like the most logical step to ensure that not only are all voices heard, but that they are all heard equally and fairly.
I'm relatively young--a child of the 90's. Though I only recently began voting, I considered myself knowledgeable enough about the process. I've been an out-of-state student since I turned 18 and have been voting by mail-in ballot. When I first heard about SB 14, my first question was, "Wait--you don't have to show your ID when you vote?"
To me, showing a photo ID during the voting process seemed like common sense. I assumed that since I had to show my ID to use my credit card, write a check, get into anywhere with a cover after 9 p.m., and board a plane, it would make perfect sense that I would need my government-issued photo ID to vote in a government election. I guess common sense is overrated these days.
My biggest bone to pick with Democrats against SB 14 is that while they're completely comfortable with sending a 19-year old girl and her flowery duffel bag through an intense screening process and full-body scanner so she can go back to school, it makes no sense to ask someone for their ID during the voting process. (And enough with the argument that not everyone has bothered to obtain a photo ID. If you haven't bothered, then you probably aren't going to bother to register to vote either.)
I fully support SB 14 in hopes its passage will help uphold voter integrity and ensure our elections are run fairly and smoothly.