Texas Metro Areas Make Forbes' "Cities Where the Recession is Easing" List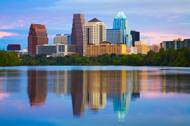 Forbes Magazine recently ranked four Texas metropolitan areas in the top ten list of "Cities Where the Recession is Easing". Austin-Round Rock shared the number one spot with Washington D.C.; Dallas-Fort Worth ranked second; while, Houston and San Antonio held the fourth and fifth spots, respectively. The rankings were based upon December statistics for job growth, median sales prices for single-family homes, and Metropolitan Gross Domestic Product figures. Here's Forbes' commentary on Texas' prominence on the list:
If one state is a poster child for economic recovery, it's Texas, home to four of the 10 cities on our list. There's more to why Austin, Dallas, San Antonio and Houston are faring well than just the state's energy industry. The tech, government and education industries supplement the oil state's riches. As for housing, cities in Texas didn't see the same run-up in home prices and rampant speculation that led to the spectacular bubble burst elsewhere in the country…
"The housing market got lucky, if you want to look at it that way," says James P. Gaines, research economist at the Real Estate Center at Texas A&M University. "We didn't have excessive overbuilding, so we don't have a big overhang of unsold new homes, and because Texas has among most affordable housing in the country, the demand sustained."
Like Austin and Dallas, Houston, tied for No. 4 on the list, is expected to experience a three-year 7.03% rise in jobs. But nowhere are jobs projected to grow more than in San Antonio, where four military bases should help drive its expected 8.32% increase.
This list is particularly telling of the dire situation our nation's metropolitan areas are facing, especially when considering the recent negative forecasts in residential home values for a number of large metro areas including Dallas – see "More Home Price Headaches To Come?" on the Dallas Morning News Business Economy Blog.