Texas Voter ID Passes Senate - Moves to House for Final Approval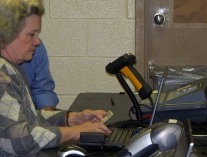 This week, in a partisan split 19-11 party-line vote, the Texas Senate Passed SB 14, Texas Voter ID Bill.  This bill will require Texas voters to present a photo ID, in most cases, in order to cast a ballot in Texas elections. The bill now moves on to the Texas House of Representatives where it will be met with several other House Voter ID Bills still under consideration.
"Were going to make sure anyone voting in the state of Texas when they show up at the polls theyre going to have to be able to show who they are with a photo ID," said Sen. Troy Fraser, R-Horseshoe Bay, the bills sponsor.  That said, the Senate versions allows for many exemptions to the photo ID requirement. It allows for some handicapped Texans, seniors over age 70 and persons who object on religious grounds to having photos taken to be exempted from the photo ID requirement.  The bill also provides for a free photo ID to be issued by DPS for anyone who cannot afford one.
The Senate bill is modeled after, but is stricter than the Indiana voter ID law which was approved by the US Supreme Court.  Indiana is not, however, subject to DOJ Section 5 review of election laws. The Indiana law allows for a much wider cross section of photo ID choices than does the Senate bill.
I had the opportunity to debate this topic on Houstons Fox News. In the interview by Ford Atkins, I said that showing a photo ID is a common practice in our everyday lives in Texas. "You cant cash a social security check without a photo ID card," I told Fox News. 
In a lame counter argument, Michael Espinoza of Mi Familia Vota says "it doesnt help enfranchise a historically disenfranchised group... mostly minority, Latino, African American." This is an absurd argument.  People dont not have an ID because they are of a particular race, but rather than because they are poor and poor cuts across all racial lines.  This bill provides a free ID for the poor, regardless of race.
I asked King Street Patriots Catherine Englebrecht about the Senate passage of the Voter ID bill and its impact on her "True the Vote" project.  She said, "I think its a great bill! I applaud Sen. Fraser for having the courage to tackle this issue so strongly." When I asked her about the DOJ review, she told me their attorney believes Texas can bypass that review and take the case directly to the court system for approval.
The Bill now moves on to the Texas House.  The House could have voted on the Senate Bill right away by adopting a House Rule change proposed by Rep. Wayne Christian. However, that process has never been done before and there could be unintended consequences that cannot be foreseen at this time.  Here is Rep. Christians update on this topic:
There has been a lot of email traffic and social networking chatter that Speaker Straus will water down the Senate bill in the House. This is a continuation of the baseless attacks against the Speaker leading up to his re-election as Speaker. The truth is, the Speaker doesnt write legislation and does not have a Voter ID bill on the floor for consideration. Bills are written and submitted by individual legislators and there are several on the floor at this time for consideration. My impression from discussion with legislators and staffers is the version that comes from the House will be even more conservative than the recently passed Senate bill.
I spoke with Rep. Todd Smiths (R-Hurst, Bedford, Euless) staff today about his bill, HB 401. This bill is modeled after the Georgia bill. It allows a wider selection of photo ID choices but does not have many of the exemptions provided in SB 14. Georgia is also subject to the same DOJ review as Texas and their bill has passed this review.
I have also spoke with Rep. Debbie Riddle about her bill, HB 16. Her bill is much less restrictive in that it allows for two forms of non-photo ID if the voter does not present a photo ID. Rep. Riddle believes the inclusion of two forms of non-photo ID is necessary to pass DOJ review.
There are at least four other bills before the House to be reviewed prior to voting on this legislation. This includes HB 248 by Rep. Wayne Chisum which mirrors the original SB 18 bill.
Voter ID will certainly pass the Texas House of Representatives and Governor Rick Perry has already said he will sign it when presented to him. Wednesday night, Gov. Perry said, "I applaud the Texas Senate for passing the voter ID legislation, which represents a significant step toward preserving the integrity of the ballot box in Texas. I am pleased that state lawmakers are quickly addressing this issue, which is important to Texans and critical to ensuring our state has proper protections against voter fraud, and I fully expect the House will soon follow suit and pass this important measure." 
We still have a long fight ahead of us. The House is still setting up committees and assignments. Nothing can be done until that process is finished. Lets work together instead of taking pot shots at certain individuals who have yet do do anything wrong in this legislative session. The facts will serve us much better than the infighting and distortions that have been spread about certain members and leaders of the Legislature. There are plenty of Democrats to fight right now. We can take on wayward Republican as they become self-evident.