The Future of Texas is Bright as Senator Ken Paxton Announces Bid for Texas Attorney General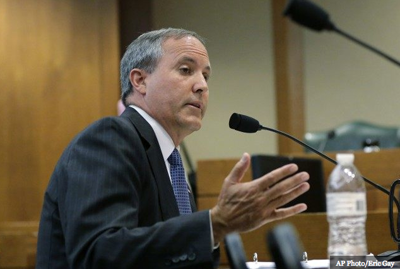 The future is brighter for Texas conservatives as Senator Ken Paxton (R-McKinney) announced his bid for Attorney General to an enthusiastic crowd of approximately 560 supporters in Plano Thursday evening. Time and time again, Paxton has proven himself to be a conservative stalwart in Texas politics. First elected in 2002, he served five terms as a State Representative before being elected to the Senate in 2012, where he was the only Senator to be given a 100% rating from Texas Eagle Forum. He has a consistent record of being recognized as one of the most conservative members of the Texas House as well, supporting legislation that promotes individual liberties and free enterprise, limits the size and scope of the state government and supports transparency at all levels of government. Paxton has also been named multiple times as being a "Texas Taxpayer Hero" by Texans for Fiscal Responsibility and has been named to the Texas Association of REALTORS Legislative Hall of Fame for his "uncompromising commitment to championing the rights of homeowners."
Texans been holding their collective breath for months as they have waited to hear about the future plans of Governor Perry and Attorney General Greg Abbott, knowing that a paradigm shift was eminent. In a statement released last week, Paxton said,
"Conservatives have shared with me their belief that Texas' next Attorney General should be a committed conservative with a proven, decade-long record of standing firm for our principles. I would be honored to continue General Abbott's legacy of fighting a federal government which poses a clear threat to our values, freedoms, and liberties."
Thursday night, Paxton left no doubt, confirming that he is indeed running for Texas Attorney General. He entered the crowded room flanked by his wife, Angela, their four children, Collin County District Attorney Greg Willis, State Representative Jodie Laubenberg (R-Parker) and former NFL player - now State Representative Scott Turner (R-Frisco). DA Willis played the role of emcee, first greeting everyone, then praising Paxton for being "an honest, courageous man of tremendous integrity," stating that he's known Paxton for over 30 years. Next, Willis introduced Rep. Laubenberg, praising her for the landmark pro-life legislation passed during the 83rd Legislature's second special session known as HB2. Laubenberg noted that she and Paxton both entered the Legislature in 2003 and had been in the trenches together fighting for conservative principles in many important battles. (Later during his speech, Paxton would thank his good friend and colleague for "having his back.") She said, "Texas needs an Attorney General who will never waver in the upcoming legal challenge to HB2 and this is the person we can count on and trust to lead this battle." She also thanked Paxton for "stepping out and putting himself on the line to serve our great state." Finally, it was Rep. Turner's turn at the mic. He called Ken, "A wonderful man, faithful friend and ally and a champion for our true conservative principles and convictions." Turner said that Paxton does what he does because "it's the right thing to do" and that his "foundation as a Christian man is solid." He wrapped up by saying, "It's about to be a different ballgame, because Ken Paxton is on the scene now!"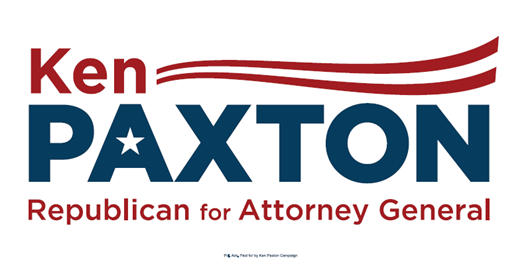 To the cheering crowd, Paxton stepped up to the microphone. And after welcoming the crowd and introducing his family, he said,
"Friends, it's a great time to be a Texan… and with the right leadership, our future can remain bright."
He went on to say,
"With our track record here in Texas, you would think that Washington would leave well enough alone, and let Texas be Texas. But as you know, President Obama and the federal government feel the need to micromanage our State. I guess they think they're doing such a great job in Washington that they need to send federal bureaucrats to fix what you and I know is NOT broken."
The crowd resonated with his remarks, especially when he said,
"Washington has a bull's-eye on our great state, and we need bold leadership to hold the line against our out-of-control federal government. I am extremely grateful to Attorney General Abbott for his tireless efforts to push back the federal government as it continually attempts to encroach on our rights and liberties. And now that he has announced his plans to run for governor, it's time for another leader, a proven conservative to follow in his footsteps. That is why, today - here in front of family, friends, fellow Republicans, Tea Party Patriots, and dedicated conservatives, I am announcing my candidacy for Attorney General of the Great State of Texas."
As the crowd continued to cheer, waving placards with Paxton's new campaign logo, he built on their excitement by boldly stating,
"As I announce my candidacy, I have a loud and clear message for Barack Obama and for Texas: Mr. President, Texans will govern Texas!"
He also promised that U.S. Attorney General Eric Holder would know his name within one month of him taking office. He then addressed the current administration's abuse of power where the IRS was used to harass groups and individuals due to their political stands, and added that Texans should not have to live in fear of our government.
Next, Paxton addressed the importance of guarding our Constitution and protecting the freedom that our founders originally intended, not the agendas of those currently holding office. He emphasized the importance of adhering to the 10th Amendment, pointing out that states must stand firm against the federal government intruding into the sovereignty of Texas. He also shared five priorities that would help guide him as Texas' Attorney General:
1) Defend the 10th Amendment - fight any efforts to infringe upon States rights.

2) Defend Texas when the federal government threatens that we need their approval to implement our own voter ID law.

3) Protect the state legislature's ability to draw fair congressional and legislative districts, rather than allowing the federal government to redraw them in order to favor political allies.

4) Do everything possible to safeguard our personal privacy from government and individuals who seek to do us harm.

5) Continue to stand in the gap to do everything possible in preventing the implementation of ObamaCare and defend Texas businesses from this job-killing scheme.
Paxton's message was enthusiastically received as he pointed out that this is much bigger than merely a campaign of an individual running for office, but rather a "campaign to preserve and defend Texas - and all that we hold dear." He is right, as it is vital that Texas elect an Attorney General who understands the importance of holding the line and preventing the erosion of our rights as a state. Paxton pointed out,
"During this campaign season, you'll hear lots of speeches, lots of promises to stand firm against Washington. The difference is, not only do I mean it - I have the record to prove it.

"I have a more than decade long track record of actually taking the tough votes, in the trenches for our values. And I'm honored that, as a result of my record, I have earned the support of some of Texas' most dedicated conservatives. They know that I'm not afraid to stand on principle, even when it requires challenging other elected leaders.

"My record as a committed constitutional conservative is very clear: No one has fought harder to defend your 2nd amendment rights. I am the only candidate in this race who can claim a solid "A" rating from the NRA for more than a decade. I have voted to defend our Religious Freedoms and our Judeo-Christian heritage, and my record in the legislature clearly shows that. On the critical mission of defending the unborn, I have consistently and enthusiastically supported all pro-life legislation both on the floor, in committee and behind the scenes."
Paxton noted that his father was a pilot in the US Air Force for 21 years, risking his life flying missions during the Cuban missile crisis, Viet Nam, and in Thailand. He then pointed out,
"If we lose the freedoms that my father fought to preserve in the United States, we have no other place to move. Fellow Texans, we can't let that happen. We must stand firm and stand strong to defend our freedoms and our liberties."
When asked why he would voluntarily give up one of the best jobs in public service, serving in the Texas State Senate, a job that he has thoroughly enjoyed, he said,
"I truly believe that there is just too much at stake to play it safe. The office of Attorney General is extremely critical to our future, to our State, and to the entire nation. I ask myself, 'If not me, who? If not now, when?'  So, 'For a time such as this,' I'm willing to lay it all on the line.

"This is the line in the sand. Texas is the last, great hope against complete federal intrusion and the office of Attorney General is the front line of defense. You have heard the song "The Eyes of Texas are Upon You?" In this case, the eyes of the nation are upon Texas and I believe hoping and praying that we will stand firm, stand strong and resist the oppressive federal intrusion. If you will stand with me, if you will pray for me, if you will share our story with all of your friends in Texas, together, we will ensure that the Lone Star State remains a beacon of freedom and liberty to the nation."
Texans would truly be blessed to have Ken Paxton serving as our next Attorney General. He is a man of principled character and enormous capability, consistently standing firm for conservative values, even under immense pressure. Our great state deserves no less, as our battle to defend Texas will require a steadfast commitment and unwavering courage as we seek to preserve our republic, protect our Constitution and the values we hold so dear.