GOVERNOR RICK PERRY will not seek reelection
"Today I am announcing I will not seek reelection as governor of Texas."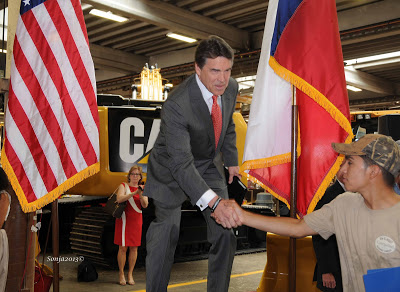 On Monday, July 8, 2013, Governor Rick Perry, Texas' longest serving Governor, announced to his strong core supporters that he would not be seeking reelection. He made his announcement at Peter Holt's Caterpillar business on So. WW White Road in San Antonio, Texas. His statement, the place and who the invitees would be were a well-kept secret until an Express-News reporter leaked the place.
Texas First Lady Anita Perry did the honors of introducing her husband by joking about their first date.
There had been wide speculation that Governor Perry would run for reelection, run for president, and even that he had accepted a job with a business firm. All were proven inaccurate. Though, I will say that he did leave room for speculation that he would make a run for the presidency at the end of his governorship in 2014.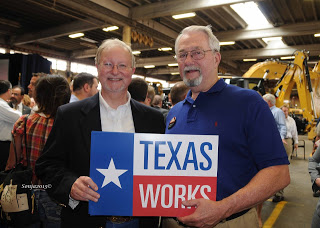 Governor Perry spoke about his accomplishments and the challenges still ahead. He also said that "Texas is the envy of the nation." He spoke of his Emerging Technology Fund, the protection of the right to life in the state, and the job creation and job opportunities in Texas. "Texas Works," he said.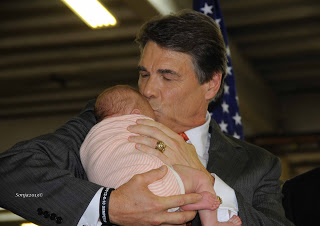 At the moment that Governor Perry revealed his intention not to run for reelection, the crowd that was gathered around him went silent. Very silent, you could sense the audience took time to reflect on what he had just said. Afterwards, the mainstream media was on a frenzy fault-finding mission. How do you feel that he is not running for reelection? Do you think he will run for president? Do you think he should run for president after his very disappointing 2012 run? Will you support him if he runs for president?
The fact that Governor Perry will not run again leaves the field open for other strong conservatives to seek the office of Governorship. Already Tom Pauken, former Texas Workforce Commissioner, has announced his candidacy and it's no secret that Attorney General Greg Abbott will be making his announcement in the next few days.
It is up to us to listen to the candidates and make our decision based on what and how he plans to keep TEXAS RED! Texas has many issues currently unresolved. We are having a severe drought in Texas which will affect our water supply, and transportation and education should be on top of the list.
The following are photographs I enjoyed taking of the event and individuals that are considered Governor Perry's avid supporters. Bill and I felt honored that we were included in this historic Texas moment.
RED SONJA2013©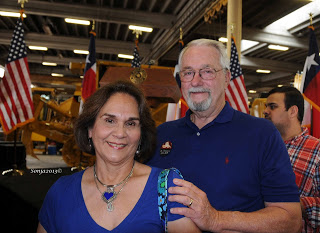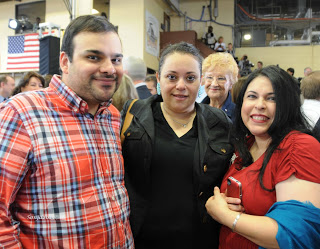 I will spend the next 18 months working to create more Texas jobs, opportunity and innovation. I will work to actively lead this great state. And I will also pray, reflect and work to determine my own future path.
I make this announcement with a deep sense of humility and appreciation for the time and trust the people of this state have given me, and knowing I will truly miss serving in this capacity, the greatest job in modern politics.
http://rickperry.org/blog/governor-perrys-july-8th-announcement
Pauken said that real conservatives listen to regular people, not just those who have enough money to pay for lobbyists. Conservatives are serious about ideas and solving problems, not just saying what people want to hear, Pauken said.
Perry will announce his future plans at Holt Cat in S.A.