Houston City Elections - Michael Kubosh is the Clear Choice in At-Large #3 Race - Last Day for Early Voting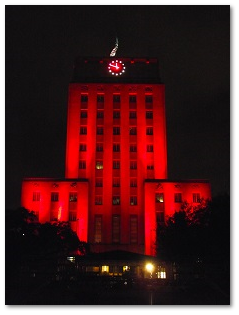 Today is the last day for early voting for the Houston City Council run-off election. If you dont vote today at any of the various early voting centers, you can vote Saturday at your precinct location. This election gives Republicans a real shot at reshaping the Houston City Council with a more conservative look. The election will decide the fate of three seats on city council. Also up for grabs on Saturday will be two seats on the Houston Community College Board. Lets turn City Council Red!
There is a clear choice in each of these run-off spots to build a more effective Houston City Council. In the At-Large Position 3 Council Race, Michael Kubosh is most certainly the clear choice. He is backed by one of the most conservative legislators in the Texas House, State Representative Allen Fletcher, Houston Area Pastors Council President Dave Welch and a host of conservative precinct chairs and community pastors. He is also able to reach across the aisle and garner support from many in the minority community, something that really seems to bother his opponent Roy Morales whose main objection to Kubosh is that he has too many black friends.
Below is a series of interviews I conducted with Kubosh in the weeks leading up to the general election last month. Please ignore the sections where we are talking about election dates as that was for the general election, not the run-off election.
PART 1
Part 2
Part 3
An article in the Houston Chronicle by David Jennings talks about the desparation in the Morales campaign and the underhanded tactics that are just way too common when Morales is in a campaign. Jennings shows a mailer that strongly implies that Morales is endorsed by Congressman Ted Poe, Texas Attorney General Greg Abbott and others. He does this by intermingling their photos in with other people who have endorsed him and then placing those photos above his list of endorsements.
Afterwrd, Congressman Poe had to put a statement on his website that he, in fact, had not only not endorsed Morales in the race, but that the photo was used without his permission. I have been with Poe when he is taking pictures with constituents and other candidates. He is very consistent in telling candidates these photos are not to be used in campaigns.
This made me curious about the rest of his "endorsement list".  I checked with East Texas State Representative Jame White. White told me he has no recollection of having ever endorsed Morales.This makes me very skeptical of the rest of his list as well.
In other City Council Races, the most conservative candidate in the race for At-Large Position 2 is the incumbent Council Member Andrew Burks. His opponent would move that seat far to the left. In the District A race, incumbent Council Member Helena Brown is, once again, the clear conservative choice over Brenda Stardig who likes to pretend she is a Republican, but really isnt. Brown unseated Stardig in this same race two years ago and will handily do so again.
Harris County voters have an opportunity to put another Republican on the Houston Community College Board of Trustees. Phil Kunetka is running against Democrat Robert Glaser in the District V run-off. Kunetka would also be the only veteran on the board of trustees. This is important as vets make up a significant portion of the colleges population.
Voter turnout has been very light. Your vote can make a huge difference in these types of elections. Please get out and vote in early voting today or on election day, Saturday.