Texas Congressman Steve Stockman Running for U.S. Senate against John Cornyn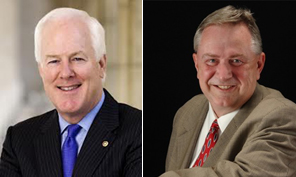 In a shocking turn of events, Congressman Steve Stockman announced at the 11th hour on filing deadline day that he will be running for U.S. Senate against current Senator John Cornyn in the Texas Republican Primary Election March 4th, 2014.
This announcement from Stockman immediately makes the Texas U.S. Senate race one of the most interesting races in America. Stockman is not the only person who filed to challenge Cornyn, but Stockman is certainly the most well-known of the challengers.
Stockman was well known for defeating liberal Democrat Congressman Jack Brooks in East Texas many years ago. He came roaring back to Congress in 2012 to fight Obama. Stockman has a 100% lifetime conservative rating. He has introduced bills to stop Obamacare, to stop killing babies, to auditing the Federal Reserve, to protecting gun rights, to inviting Ted Nugent to the President's State of the Union, to inviting the Obama rodeo clown to Texas.
One of my favorite bumper stickers ever is a Steve Stockman bumper sticker that says "If Babies Had Guns They Wouldn't Be Aborted."
This announcement from Congressman Stockman has completely turned the political world in Texas, and America, upside down. Who will win is anyone's guess, but John Cornyn certainly has a race on his hands!
Senator John Cornyn is the current U.S. Senator from Texas alongside Senator Ted Cruz. Senator Ted Cruz won in 2012 so he is not up for election again this year. Senator John Cornyn took some heat when he broke ranks with Senator Ted Cruz when Cruz was fighting against Obamacare. This, among other things, caused Cornyn to draw challengers in the 2014 Republican Primary Election.