Wendy Davis Dragging Down Other Dems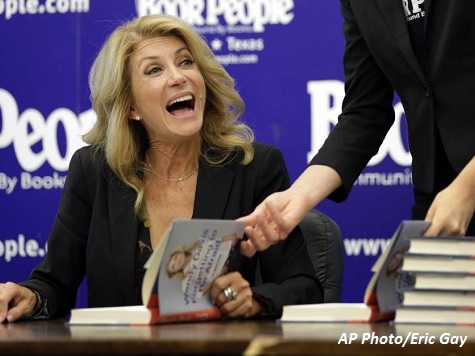 Democrat Gubernatorial Candidate Wendy Davis appears to be dragging down other candidates on the Democrat ticket. As Davis' desperate attack ads and other political missteps continue to pile up many Democrats are privately admitting her campaign has been a huge failure.
For Davis, success is all but out of reach according to Karen Tumulty in a Washington Post article. She wrote that there was a moment where Davis might have been able to leverage the national celebrity she became after her 2013 pro-abortion filibuster and break the twenty year lock on Republican statewide office holders. "It appears to have passed," Tumulty stated.
"Davis has proven a disappointment as a candidate," she continued, "and Democrats lament privately that her campaign has been a mess." Davis' empty wheelchair ads seem to have taken even more toll on the already failing campaign. A University of Texas/Texas Tribune poll released on Thursday says that Abbott's lead is sixteen points ahead of the failing Davis campaign. Those results seem to echo a poll by KHOU and Houston Public Media poll conducted recently that also showed Abbott with a sixteen point lead.
Tumulty wrote that if Davis fails to do better than former Houston Mayor Bill White did against Gov. Rick Perry in 2010, the idea that Texas can be turned blue with a flood of money and organization may be incorrect.
The Davis campaign stumbled out of the starting blocks with questions about her embellishment of her biography. She has failed in distancing herself from her own record on abortion and other social issues. But recently her campaign ship crashed into the rocks when her attack ad against Texas Attorney General Greg Abbott that featured an empty wheelchair drew national criticism, even from the left media.
The Post article says "Some Democrats grouse that Davis has become a drag on other party candidates." This includes Democrat Lt. Governor nominee Leticia Van de Putte.
"We need to strike a demoralizing blow to the Democrats. We need Greg Abbott to win by 15 to 20 points," Robin Armstrong, the Republican national committeeman, said Wednesday at a meeting of the Bexar County Republican Women in San Antonio.
The article in the Post quotes an interview with Armstrong where he expanded on this line of thought. "[T]he message is that the Democratic Party spent extraordinary resources in our state, and they were unable to make a dent in our margins. That would send a huge message that their efforts have failed in Texas."
Early voting has begun in Texas and runs through this weekend. It will close out on Friday, October 31. The general election is scheduled for Tuesday, November 4. The Post article claims "initial signs are that it is more brisk than in the last gubernatorial election, and that could be a boost to Democrats. They have put heavy emphasis on banking votes in advance, especially in light of the state's stringent voter-identification law."
---