TexasGOPVote Blogger Adryana Boyne In Prime-Time Arizona SB1070 Immigration Debate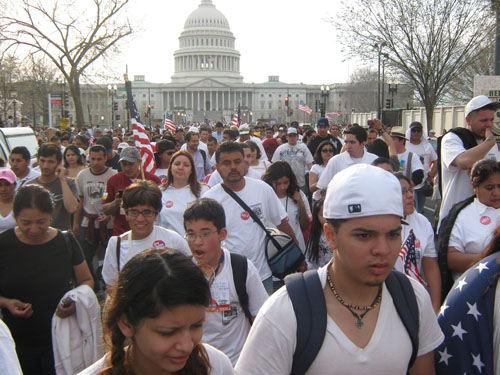 TexasGOPVote Blogger Adryana Boyne will be appearing on Univision, the nation's largest spanish language television program to support SB 1070, Arizona's tough new immigration law. Accroding to a NY Times article,
The network is holding a prime-time debate, "Inmigración: Un Debate Nacional," about proposed immigration reforms on Friday. It is also releasing a poll on immigration conducted in conjunction with the Associated Press.
This is not Univision's first foray into the immigration issue coverage. The station ran hours of live coverage on May 1st of this year when protesters gathered across the country to call Congress to enact on immigration reform and to show anger toward Arizona's SB 1070.
Univision scheduled hours of live coverage, relying in part on its local stations in markets like Los Angeles. English language cable news channels like CNN and Fox News featured the rallies in their newscasts, but did not provide wall-to-wall coverage.
Adryana says that she supports the Arizona Immigration bill in part because "We need to protect our borders and get an immigration solution that is sensible and realistic. I cannot be against the Law because it would be against my value system."
Also appearing in the debate in support of the Arizona bill are Maricopa County, AZ Sherrif Joe Arpaio, Arizona House member Steve Montenegro, and Jack Martin from FAIR. Governor Jan Brewer of Arizona has been invited to participate, but TexasGOPVote.com has not recieved confirmation of her attendance as of this time.
Speaking in opposition to the bill are Florida Congressman L.D. Balart (R-FL 21st), Alfonso Aguilar, a George W. Bush appointee to the U.S. Citizenship and Immigration Service (U.S. CIS), the Chief of Police for the city of Tucson and the Sherriff of Pima County, AZ.
The broadcast airs later tonight; 9pm central time on Univision. Check you local listings for channels.