TexasGOPVote Blogger Endorsements: Ted Cruz for Senate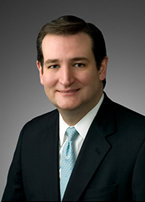 The May 29th, 2012 Republican primary will offer Texans an opportunity to send to Washington, D.C. something America desperately needs right now: a true defender of the Constitution.
Here are ten reasons Ted Cruz deserves your vote for U.S. Senate . . .
#10 - Because David Dewhurst would fit the U.S. Senate like a glove. Now is the time for standing out, not fitting in.
#9 - Ted Cruz has made defending the U.S. Constitution his life's work. Ted fought for the Ten Commandments monument and the words "under God" in The Pledge of Allegiance before the U.S. Supreme Court and won.
#8 - The 10th Amendment of the U.S. Constitution – Ted Cruz actually knows what it means. Don't believe me? Read this.
#7 - Because we need more U.S. Senators like Marco Rubio, Mike Lee, Rand Paul, Pat Toomey, and Jim DeMint.
#6 - Because David Dewhurst will go to Washington, D.C. beholden to the same money that made him Lt. Governor of Texas. Ted Cruz will go to Washington, D.C. beholden to nothing but the U.S. Constitution.
#5 - Because conservatives pine for conservatives who can articulate conservative principles: elect Ted and stop pining.
#4 - Ted was Tea Party before it was cool to be Tea Party.
#3 - Ted's dad escaped Cuba in 1958 with nothing but $100 sewn into his underwear. He put himself through the University of Texas and started a business. Love of liberty and entrepreneurship are in Ted's DNA.
#2 - Jose Ernesto Medellin. Ted Cruz defended Texas's right to try and execute this murderer who raped and killed two girls, 14 and 16 years old. Ted Cruz won and justice was served.
#1 - When Ted Cruz schools Senate Democrats in debate, the rest of the Republican Caucus will yell: "CRRRRUUUUUUUUUUUUUUUUZZZZ!!!!!"
Remember to vote for Ted Cruz in the Republican Primary for U.S. Senate on May 29, 2012. To contribute to Ted Cruz's campaign, go here.
---
Disclaimer: The views of individual TexasGOPVote bloggers do not necessarily reflect those of TexasGOPVote.com.