Thousands Participate in Smith's Bexar County Tele-Town Halls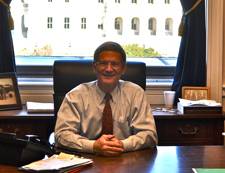 I have held two telephone town meetings with thousands of Bexar County constituents. I use the technology, also known as a "tele-town hall", to stay in touch with constituents when I am in Washington for votes.
Through tele-town hall meetings, I hear from constituents about issues that concern them and respond to their questions and comments.
During the telephone calls, I also poll constituents about various issues. For example, more than 73% of callers felt that the best way to reduce the deficit is to cut federal spending. Communicating regularly with constituents helps me better represent them in Washington. I appreciate their participation in the tele-town meetings.
During the call, I asked three poll questions. The results were tabulated by the tele-town meeting technology.
Do you support legislation that would require congressional approval for major regulations?
1) Yes – 71%
2) No – 15%
3) Undecided – 14%
Which of these ideas would be the most effective at creating jobs?
1) Reducing taxes- 25%
2) Elimination regulations- 39%
3) Enforcing worksite immigration laws - 28%
4) Undecided – 8%
What is the best way to reduce the deficit?
1) Raise Taxes- 4%
2) Cut Spending - 73%
3) Raise taxes and cut spending- 22%
4) Undecided – 1%
For more information about how you can contact Congressman Smith and participate in future tele-town hall meetings, please visit: http://lamarsmith.house.gov/