TPPF Report Confirms Worst Fears About Cap-And-Trade Impact On Texas Jobs & Economy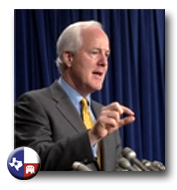 Thursday, I joined the Texas Public Policy Foundation (TPPF) in announcing the findings of critical new research on the severe impact federal climate change, or cap-and-trade, legislation would have on the Texas economy. The report examines the Texas-specific impacts of pending climate change legislation, including the effect it would have on various Texas industries, jobs, energy prices and the economy. The report models the economic impact of H.R. 2454, the Waxman/Markey climate change legislation approved by the U.S. House last year. Similar legislation is pending in the U.S. Senate.
Through their rigorous analysis, TPPF has confirmed my worst fears about cap-and-trade – indicating it would kill close to 200,000 Texas jobs, raise power bills for the average Texas family by 54 percent, and slash our state's economy by up to $40 billion. TPPF has reached the same conclusion that Texas Comptroller Susan Combs did last year: Cap-and-trade would devastate our state's economy and destroy hundreds of thousands of jobs.
I will oppose cap-and-trade in the Senate and will continue to look to Texas ideas and initiatives for better alternatives to cap-and-trade. We can and should reduce our dependence on foreign oil by prioritizing the production of existing resources here at home and encouraging private investment in energy technologies like next-generation biofuels, the recovery of natural gas from shale, and in wind, solar, and nuclear power.