Tribute to LTC Bobby J Price - 11/05/1932 - 12/24/2000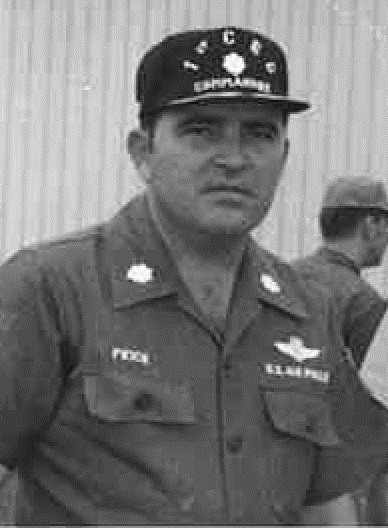 I hope you will indulge me this break from politics to remember my father, LTC Bobby J Price, USAF, who passed away 10 years ago on Christmas Eve morning.
Dad had very humble beginnings. Born in Duncan Oklahoma in late 1932 and growing up as what he called "oil field trash", he and his family traveled around Oklahoma, Texas, Louisiana and Mississippi living in a small trailer or whatever else they could make do with. As a depression era child, he developed very conservative values that he would try hard to pass on to me.
After graduating high school at the age of 16, Dad enrolled in the University of Oklahoma where he majored in Geology.  Dad was always a big time pool player.  At OU he used his skills to win money off the "rich kids".  One of whom was a young man named James Bumgarner. You would more likely recognize him by his other name, James Garner (yes, that James Garner).
His older brother Byron "Abe" Price had already joined the Navy and had become a Naval Aviator. Bobby decided to almost follow in his footsteps choosing instead to enroll the the brand new US Air Force Officer Candidate School at Ellington Field in Houston in 1954.
He was commissioned as a 2nd Lieutenant in the Air Force after graduation. As there were no immediate slots available for pilots, he entered navigator/bombardier training and was assigned to the newly released B-57 bomber program.  Through his career, he had the opportunity to be a Strategic Air Command combat crew member of the B-47 Stratojet bomber and the dream job in the Air Force at that time, the B-58 Mach 2+ Hustler.  After retiring from flight status, he became the commander of the Matagorda Island Bombing Range in South Texas and spent a tour in Thailand where he commanded a radar detachment that was responsible for directing nearly all of the US Combat Air Traffic into North Vietnam during Operation Linebacker in 1972.  After this tour he returned to Matagorda Island where he resumed his command until his retirement. He retired with a "Master Navigator" aeronautical rating and the rank of Lieutenant Colonel.
After retirement he took up an interesting combination of careers as a shrimp boat owner/captain and art gallery owner in Rockport before eventually retiring to Kerrville, Texas. He told me many times, his favorite time of day was sunrise.  Little did I know that we would spend the last few days of his life being more and more grateful every time the sun came up and he was still with us to enjoy it together. The photo below is a sunrise shot taken from his shrimp boat, the Joey1 in 1979. There is not much more serenity in life than sunrise on a boat...
Dad was one of the smartest and wisest men I have ever known. I miss his guidance and conversations.  When I would visit his home in Kerrville, we would sit on the back porch for hours on end discussing everything from world events to politics to philosophy to religion.  I would never tire of these conversations even though I would rarely win an intellectual argument with him.
I often wonder what he would think of my writings and the fact that all of you would actually read these postings. He died just as the internet was coming of age, but he loved the information that was put at our fingertips by this network of data. I know one thing, if he were here today he would be engaged so that is why I follow in his footsteps.
Eventually, he lost his battle with the beast that is alcoholism and ten years ago this Christmas Eve his energy left this physical form we call life. He passed away with my sisters and I at his side at 7:27 in the morning after two weeks of what can only be called a miracle. I would be happy to share that story with you sometime if you ask.
Bobby J Price was survived by me and my two sisters, Terri and Sundi; and two grandchildren, Staci and Brandon. Add two great-grandchildren to that now, Mikayla and Luke. He lives on today in the memories of family and friends around the world. 
Dad, if you are reading this in the big internet of life's energy, I miss you and look forward to the day we can, once again, debate the great issue of the universe.
My sisters and I say Merry Christmas to all of you and your families. May you find the Christ Spirit alive in all you come in contact with this holiday season. If you are traveling, please return safely.
        Bob, Terri & Sundi