TX-25 CD Candidate Forum and Debate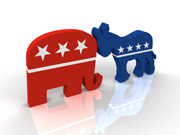 There will be a candidate forum and debate for the candidates of the 25th Congressional District of Texas. Candidates Lloyd Doggett, Donna Campbell, George Morovich, and Jim Stutsman have been invited to participate.
The debate will be on Saturday February 6th at the San Marcos Embassy Suites & Convention Center at 5pm.