ICLEI: Linking Local Governments to the UN Agenda
National governments will probably not adopt a new United Nations' legally binding greenhouse gas emissions treaty in Durban, South Africa, but that does not protect Americans from the UN's tentacles. The globocrats are employing its non-governmental organizations to entice local and regional governments to allow global bureaucrats to measure, report and verify their municipalities' greenhouse gas emissions.
The Durban Adaptation Charter, an initiative of ICLEI, the International Council for Local Environmental Initiatives, was signed this week by 114 mayors and other elected local leaders representing 950 local governments from around the world. ICLEI employs the same tactics to impose facets of Agenda 21 in hundreds of American communities that link local governments to global governance to implement the UN's radical environmental agenda.
Its first annual report, entitled "carbonn Cities Climate Registry," aims to influence nations to agree to the same measurable, reportable and verifiable climate commitments made by local governments. Co-authors of the report, the World Mayors Council on Climate Change, bragged that it is "turning the 'talk' of climate challenge into the 'walk' of climate action."
The NGOs believe they have developed a model to measure, report and verify carbon reductions boasting voluntary participation of cities in 19 countries representing 83 million inhabitants to create 90 GHG inventories with 107 commitments and 555 actions.
The Mayor of Durban presented a resolution to both the Climate Change meeting and to the World Mayors Council on Climate Change calling for ten principles, which should serve as warning signs of intrusive influence on our elected officials:
A commitment to climate change adaptation as a key consideration for all zoning and planning 
Undertake local level impact and vulnerability assessments of climate risks 
Planning infrastructure and investments that are climate-smart and environmentally sustainable 
Ensure that mitigation actions limit greenhouse gas increases 
Encourage citizen lifestyle changes that contribute to local climate actions 
Ensure sustainable management, conservation and restoration of ecosystems 
Build climate financing with the Green Climate Fund (UN global tax), national governments and multilateral funding institutions 
Develop a measurable, reportable and verifiable register of greenhouse gases 
Ensure cooperation of all levels of government to implement UN legal frameworks 
Promote partnerships at city, regional and global levels
More than 600 American communities are members of ICLEI and have suffered its costly and intrusive agenda to spend millions of taxpayer dollars for walking and bicycling paths and for public transportation.
When local citizens call for these actions, then local control and self-government are in tact; but when ICLEI entices locally elected officials to embrace the UN's global agenda, then it is the responsibility of self-governed citizens to defend their right to elect public officials and hold them accountable to our form of government that originates with the governed, not with global busybodies.
Anti-American banner at the UN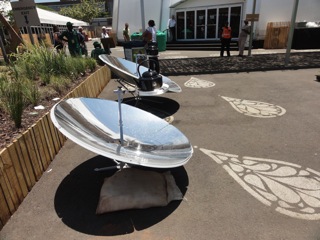 Hot water - If the sun shines
Demand for a legally binding greenhouse gas emissions treaty