CPAC 2013 and the Presidential Hopefuls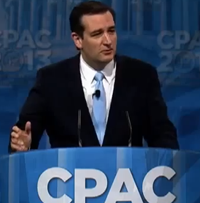 Fellow TexasGOPVote blogger Tom Donelson recently wrote about some of the CPAC 2013 speakers who stand out as possible 2016 Presidential contenders, listing Marco Rubio, Bobby Jindal and Rand Paul.
I respectfully add to that list Ted Cruz, Allen West, Governors Scott Walker and Jeb Bush, and a long shot but very popular person, Dr. Ben Carson of Prayer Breakfast fame.
CPAC also featured Texas Governor Rick Perry, whose presence seemed to signal interest in running for President, although he has frequently told audiences that he belongs in Texas. Senator Rick Santorum drew a massive, over sell-out crowd to his Friday speech and Q&A session, and came in third in the straw poll, behind Rand Paul and Marco Rubio. Both are already widely known as they ran in the past, so I won't dive into their qualifications at this point.
This is one amazing farm team on the conservative side, and this is only the list of those who spoke at CPAC 2013. Outside of CPAC speakers, I would add New Mexico Governor Susana Martinez, and Virginia Governor Bob McDonnell.
Whoever wins the Republican Presidential nomination in 2016 will face a Democrat determined to follow in the Far Left path of President Obama, because it is perceived (wrongly in my view) to be popular. Hillary Clinton wants that nomination and is vying for it, as is Joe Biden.
My guess as of now is that Michelle Obama is taking a long and serious look at the Democrat nomination for herself. And if Michelle goes for it, she will quickly clear the field of the above-mentioned and any other Democrat challengers. Keep that picture in your mind as we assess our candidates.
Here's a brief summary of the Republican potential presidential contenders who spoke at CPAC, not mentioned in Tom Donelson's posting:
Ted Cruz: The CPAC keynote speaker whose meteoric rise to the United States Senate leaves no doubt of his ability to run hard and win. To masses of Texans, and now more Americans, he is the articulate, passionate defender of the Constitution. He's a Tea-Party favorite. He started his U.S. Senate campaign in Texas with a 2% name ID, won the primary against a long-time establishment favorite by 14%, and won the general election by 16%. He has thus far in the Senate "walked the walk" of a genuine and committed conservative.
Allen West: As his supporters point out, Abraham Lincoln only served one term in the House before winning the Presidency. West is very popular with the Tea Party, the veterans, conservatives and voters fed up with the status quo of people going to Washington and then just "going along to get along." West has proven he doesn't do that. He is a huge draw for young voters, and a powerful presence in any room. His work at PJTV is keeping him in the conservative public limelight.
Wisconsin Governor Scott Walker: His standing down of the over-zealous public teachers' unions in his home state and his capacity to be re-elected during an ugly recall speaks of his confidence and fortitude. His speech was another barn-burner, and he seems ripe to move executive mansions—but I have no idea if he is interested.
Former Florida Governor Jeb Bush: Talk swirls around him and his potential candidacy. He is certainly well known and has a terrific record to run on from his days serving as Florida's governor. Not sure America is ready for another Bush, but he is apparently interested and has appeal as a familiar America leader. His education focus is a great message but more Americans seem ready to let the states take over this issue.
Dr. Benjamin Carson: Catapulted to national fame due to his National Day of Prayer breakfast speech, which was both insightful and brave. His personal story is a stunning rebuke to the liberal/Democrat victim-status political policies and mantra for all persons of color, and he may help to actually lead toward the first truly post-racial society. His personal generosity to children struggling to get ahead in life by performing well in school is commendable. The SRO line he delivered at CPAC started with "If you were to somehow put me in the White House.." which led to a resounding roar of applause, and after it settled down, he continued to make that point that if he or anyone were in the White House and trying to bring down the American economy, he or she would do exactly what our current President is doing on many policy fronts.
It is true that 2016 is years away, but voters are thinking now about which contenders among our farm-team warrant a closer and more sustained look. Conservatives want very much to find the right person, and to unify sooner than we did last time.