Update on Texas Meetings and Immigration Reform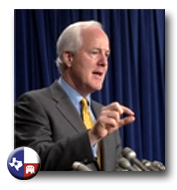 Over the last few weeks I've had the pleasure of meeting with the Mayors, City Council members, and other representatives from cities across Texas as they visit Washington to discuss local issues. I have met with delegations from Midland, El Paso, Laredo, Lubbock, Lufkin, and San Marcos, to name a few. Amidst prolonged debates over issues like health care reform and economic recovery, these meetings provide vital opportunities for me to listen to local officials as they stress what is working in their communities, and what things need to be adjusted at the federal level so that I can better serve them and all Texans across the state.
Over the last few weeks there have been reports of new developments in the effort to reform our nation's flawed immigration system. Last week tens of thousands of advocates marched on Capitol Hill in an effort to encourage President Obama to fulfill his campaign promise to make immigration reform a top priority of his Administration. Senators Chuck Schumer (D-NY) and Lindsey Graham (R-SC) have outlined their principles for comprehensive immigration reform, and while I applaud their efforts, any substantial effort at reform will require the President to step in and take an active leadership role. As I have said previously, I stand ready to roll up my sleeves and work with my colleagues, reform advocates, and local officials so that we can finally address this issue and fix our broken immigration system.