Smith Encourages 21st District Students to Apply for Cyber Foundations Competition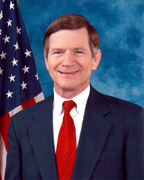 Today, I announced that registration is open for the US Cyber Challenge Fall competition, a national contest for high school students interested in pursuing advanced education and job opportunities in the cyber security field.
This is a great opportunity for high school students who want to pursue an education in the cyber security field. This rapidly-growing field is critical to help our nation meet the challenges of the 21st century. There are few things more valuable to an individual than a good education and few things more valuable to a community than educated residents. I encourage all students who are interested to apply for this competition.
Participation is available to all U.S. high school students in both public and private schools, as well as to students who are home schooled or involved in other organized groups. Students may register individually or as a group through their schools. Teachers, principals and school administrators are encouraged to facilitate their students' participation.
Registration is open until September 30 and is available at USCC: www.uscyberchallenge.org