Adryana Aldeen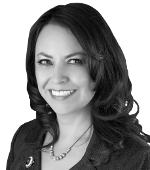 Adryana Aldeen (Formerly Adryana Boyne) is a consultant, freelancer analyst and strategist on public policy, politics, business marketing and Hispanic issues at Adryana Aldeen. Among her clients are the Republican Party of Texas,  PIC Public Integrated Communications,  TXMX and many political campaigns. She is frequent Political Analyst of NBC Universal -Telemundo, Univision Nacional and CNN Español. She writes columns for Texas Insider and TexasGOPVote,  and is Vice President of Programs of the Austin Economic Club. Adryana has been listed as a Spanish-speaking expert at top national conservative leadership organizations by the Media Research Center: MRC Latino in Washington, D.C.  As a US Elections expert, she participated with the Bureau of International Information Programs at the Department of State. - She served for nine years as the National Director of VOCES Action, a non-profit organization which informed, educated, and empowered Latinos regarding public policy. Adryana is a strong supporter of limited government, tax reform, border security, common sense immigration reform, NAFTA, free trade and pro-life legislation. Adryana served as the Director of Development for True the Vote's Hispanic initiative: Voto Honesto and as an expert on democracy as viewed through the electoral process.  She has been recognized by the RNC among the Top Hispanic Republicans Making Their Voices Heard.  
During presidential debates in the last three presidential elections she has being the Republican Analyst for special programs like the POTUS State of the Union, Former FBI Director James Comey testifying before Congress, etc. Her frequent participations in national and international television are in the top national Spanish speaking TV shows are in: Al Punto con Jorge Ramos, Enfoque con José Díaz Balart, CNN-Espanol Choque de Opiniones Al Jazeera, BBC, Televisa, TV Azteca, HITN, NTN24, etc. and radio as: Univision, The Wells Report, The Mark Davis Show at 660 AM the Answer, Point of View, KCBI, Radio Luz, etc. Adryana hosted the conservative radio show, "VOCES con Adryana" via NXA Radio.
An outstanding, eloquent communicator, public speaker and skilled debater- in English and in Spanish- Adryana has traveled to more than 40 states in the Union and to several countries in Latin America and Europe.  Her commitment to the international conservative cause was awarded with the Global Leadership Award by The Leadership Institute. Adryana frequently serves as a surrogate for the Republican National Committee. She has been featured in the movie UnFair: Exposing the IRS. She is also featured in the series "Nuestra Constitución."
Adryana was born in Puebla, Mexico, moved to the USA during her college years and became an American citizen in 1994. She is a graduate of Criswell College with a degree in Bible and cross-cultural studies, studied communications, government and history and was professionally trained in media by Merrie Spaeth - former Director of Communications of the White House during the Ronald Reagan Administration - at Spaeth Communications and received training in communication, politics, and government at The Leadership Institute. Adryana has been visiting faculty of The Leadership Institute at the International Leadership Training School and at their nationwide workshops Issues that Unite: Latinos and Conservatism and also teaching Public Speaking and Communicating in Media outlets.
Adryana is frequently a speaker at different venues: the Texas Tribune Festival, The Leadership Institute, The Heritage Foundation, Faith and Freedom Coalition, Freedom Works, True the Vote, Americans for Prosperity, Republican groups, CPAC,  and church groups around the nation. She was the only Latino speaker at the Republican Party of Texas Convention in 2010, a speaker at the Texas College Republican Convention, elected as Republican National Delegate in 2008, 2012 and 2016, and as state delegate for Texas Republican conventions in 2008, 2010, 2012, 2014 , 2016 and 2018.   been recognized by the RNC among the Top Hispanic Republicans Making Their Voices Heard.  She served in ministry for fifteen years in Mexico, Costa Rica and the USA. Adryana ran for office in 2014 seeking the Republican nomination for District 102 of the Texas House of Representatives. She has been involved in supporting conservative legislation during the past five Texas Legislative Sessions and has been consultant in many republican races.  Adryana is married with healthcare attorney Doug Aldeen and they reside in Austin, TX. Together they are the parents of five outstanding young men and one outstanding young lady.