Charles Foster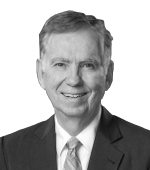 Charles C. Foster is Founder and Chairman of Foster LLP. He is also the honorary Consul General of the Kingdom of Thailand.  A native of Galveston, Mr. Foster received his Bachelors Degree from the University of Texas and his Juris Doctorate from the University of Texas School of Law.  Mr. Foster serves as a Board member and is past national President of the American Immigration Lawyers Association, Chairman of the American Bar Association Coordinating Committee on Immigration law and Vice Chairman of the Houston Bar Foundation.
During the 2000 Presidential Campaign, Mr. Foster served as the principal advisor to President Bush on U. S. immigration policy.  He is Chairman of the Asia Society-Texas Center and past Chairman of the Houston International Festival and past President of the Houston Forum and the Houston Club. He is a Director of the Greater Houston Partnership and past Chairman of its Economic Development and World Trade Divisions.  He is also Director of the Mexican Institute of Greater Houston, the Greater Houston Preservation Alliance, Institute of International Education, Houston Ballet, Houston International Festival, University of Texas Medical Branch, InterFaith Ministries and Neighborhood Centers. 
He is a Trustee of the Asia Society-New York, member of the Council on Foreign Relations in New York and past Director and officer of the Houston World Affairs Council and the Houston Holocaust Museum. He developed and co-chaired the George Bush Monument in Sesquicentennial Park, Houston. He is a recipient of 4 Royal decorations from His Majesty the King of Thailand; he received the 2000 Distinguished Friends of China Award; the 1996 International Service Award of the Houston Junior Chamber of Commerce; was the 1998 Honoree of the American Immigration Law Foundation for Excellence in the Practice of Immigration Law; and the recipient of the 2007 American Jewish Committee Institute of Human Relations Award.  He was designated a "Texas Super Lawyer" 2003-2008 by Texas Monthly magazine and the "Top Notch Lawyer in Immigration" in the Texas Lawyer "Go To Lawyers Guide" published 2002 and subsequently in 2008, as well as Who's Who In American Law and the No.1 Ranked Immigration Lawyer in Texas by Chambers USA 2006, 2007, 2008.
Mr. Foster is married to Lily Foster and they have two children.
Posts by Charles Foster