Jim Frame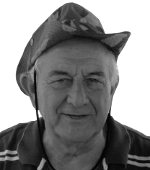 Jim Frame is now retired and living in North Dallas with his wife, Donna. He is leading a very busy life, involved in conservative causes, and still doing some business consulting and advising non-profit organizations.
After high school, he attended Northwestern State University, divided up between an active duty time in the Marine Corps and 5 years Reserve time. His education includes a Bachelor's in Education, focused on Social Sciences and Physical Education. He earned a Master's in Religious Education at New Orleans Baptist Seminary focused on practical work at Louisiana State Mental Hospital, a large Catholic Hospital, and a Baptist Hospital in New Orleans.
He directed educational programs in several churches, and worked as Administrator of The Haggai Institute in its international program training third world leaders in Singapore. During this time, he earned another Master's Degree at Georgia State University. This focus was on Management, and Psychology in the field of Education.
His thirst for knowledge is continuing and his quest includes Richland College where he has studied: Anthropology, archeology, geography, psychology, and currently Internet Research in Genealogy for nearly 40 more credit hours.
He entered the business world by joining the Cecil Day team at Days Inns of America in 1973. First area was finding money to finance the motels, then being transferred to Dallas to head the Texas Company, building and managing the Days Inns in Texas. Retired from that occupation in 1980s, he began an extensive career as President of FinAnswers International, a Funding Company that located funds for many projects.
He continues to advise and consult with specific organizations.
Posts by Jim Frame