Joey Olivo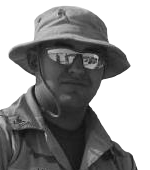 Joey is a staunch Conservative Republican. He traces his roots back to the West Texas oil fields. After what was known as the west Texas Oil Glut when the oil business took a downturn, his family relocated to Carrollton, Texas and then later to Garland, Texas.
He graduated from North Garland High School in 2001. Immediately after graduation he enlisted in the United States Navy. Upon completion of basic training he traveled to Naval Air Technical Training Center where he studied jet engine propulsion systems and fuel system maintenance. He was deployed shortly after 9/11 and served onboard the USS Theodore Roosevelt and participated in Operation Enduring Freedom until March of 2002. His second tour of duty in the War on Terrorism was from August 2003 until April 2004.
In 2005, after serving our country with dedication and honor, he made the decision to leave the military and start a family.
Since leaving the military he has worked in sales and has now found a home as a Licensed Banker for Chase Bank. He looks forward to taking a stand against the liberal agenda by electing true Conservative Republicans into office in order to ensure a prosperous future for generations to come.
His goals for the future include getting a degree in political science, pursuing his interest in politics and passing on the conservative values that he hold dear to his children.
Posts by Joey Olivo