Kristopher Infante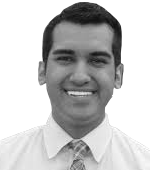 Kristopher Infante is the current State Chairman of the Texas Federation of College Republicans (TFCR), the largest conservative youth organization in Texas. Kristopher was born and raised in San Benito, TX where he was introduced to politics while working as Editor in Chief of his school newspaper. After graduating from San Benito High School, Kristopher moved to San Marcos, TX to attend Texas State University.
In May 2013, he graduated from Texas State with his Bachelors in Public Administration and a minor in Political Science. During his time as an undergraduate, Kristopher has served as the Chairman of the College Republicans at Texas State, Central Region Vice Chair of the TFCR, and the Executive Director of the TFCR. Kristopher is currently pursuing his Master of Arts in Political Science at Texas State.
Kristopher is committed to recruiting, training, and mobilizing the next generation of Republican leadership.
For more information about College Republicans visit: www.txfcr.org
Posts by Kristopher Infante