Ron Nehring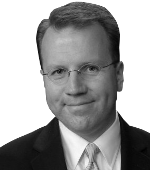 Ron Nehring is a veteran conservative leader who served until just recently as the Chairman of the California Republican Party, responsible for the direction and management of the largest state Republican Party in the nation. The acuity and focus he brings to this role is the result of over twenty years of domestic and foreign policy and political experience serving public policy, political, non-profit, and government organizations.
Chris Wilson, CEO of Wilson Research Strategies, describes Ron as "a solid political strategist" and "one of the best state chairmen I have ever worked with." Longtime Republican commentator Bill Saracino describes Ron has having "exactly the right mix of realism and an understanding of the importance of ideas and idealism in politics." The Daily Caller's Caroline May describes Ron's leadership style as "behind much of his party's enthusiasm" in the Golden State.
Under his leadership, the California Republican Party raised over $73 million, permanently retired over $4 million in debt, and instituted a wide array of professional management and financial reforms. As leader of a key state Republican Party, Ron's insight has been frequently sought by national and international media, such as the Wall Street Journal, the New York Times, the Los Angeles Times, the Washington Post, Fox News, CNN, MS-NBC, C-SPAN, and the BBC, among others. He is a contributor to several of America's leading online news outlets, including BigGovernment.com and RedCounty.com. As Chairman of the Republican National Committee's State Chairmen's Committee, Ron transformed the committee into an important force for the sharing of ideas and best practices among the nation's state Republican leaders.
Prior to his election to positions of leadership in the California Republican Party, Ron served as Chairman of the Republican Party of San Diego County (2001 – 2007), one of America's largest counties with a population exceeding more than a dozen states. During his chairmanship, fundraising increased more than twenty-fold, support for local candidates surged, and the party pioneered the largest ongoing Republican voter turnout program in California. He inherited a committee long in debt, and through a combination of strong fundraising and solid financial management, left it with large cash reserves and no debt.
ADVANCING REPUBLICAN IDEAS IN GOVERNMENT
Gov. Arnold Schwarzenegger appointed Ron to the California Board of Forestry and Fire Protection in 2005 where he worked with staff and colleagues to develop new guidelines for defensible space to protect residents and businesses from future wildfires. Ron applied his policy expertise and experience as a victim of the 2003 Cedar Fire, the most destructive wildfire in the history of the United States.
In 2004, Ron became a Governing Board Member of the Grossmont Union High School District (annual budget: $170M, student population: over 24,000) and served as Chairman of the District's Audit Committee, overseeing the District's annual audit and the implementation of recommendations for strengthening district financial management and practices. He is a strong advocate for charter schools and providing parents with options and alternatives in education. He proposed a bold plan for transforming all of the district's 11 high schools into charter schools managed by boards elected by parents of the children attending each school. He is a 2010 graduate of the FBI's Citizens Academy program in San Diego.
GLOBAL EXPERIENCE
To support the cause of advancing democracy around the world, Ron has taught communications, governance, and management to leaders in Central America, Iraq, Bosnia, Serbia, the West Bank, Haiti, Egypt, Germany, Israel and the United Kingdom. He is a member of the faculty for the Leadership Institute.
His international experience includes serving as senior consultant in Central American elections; providing governance training to the Parliament in Iraq; serving as an International Election Observer in Kenya; providing campaign training for candidates in Serbia, the West Bank, Haiti and Egypt; serving as member of the first U.S.-sponsored delegation into Pakistan and India following the death of Osama Bin Laden in 2011; serving as a member of various missions/delegations to the Middle East and Gulf regions.
In Berlin, Ron has lectured three times before the prestigious Konrad Adenauer Stiftung (Foundation) on American government, communications and politics, and twice at the annual St. Gallen Symposium of world business and government leaders in Switzerland.
You can connect with Ron through any of these social networks:
Facebook: Ron Nehring
LinkedIn: Ron Nehring
Google+: Ron Nehring
Pinterest: Ron Nehring
Posts by Ron Nehring