(VIDEO) Cornyn: Department of Justice Prematurely Rules Out Appointing Special Prosecutor on Classified Leaks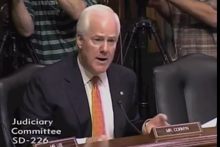 Today, I questioned Deputy Attorney General James Cole on possible coordinated, politically motivated leaks of classified information by the Obama Administration. In response to my questions, and just hours after Republicans called for a Special Prosecutor, Deputy Attorney General Cole ruled it out.
Cole Acknowledges Leaking Classified Information is a Crime:
Sen. Cornyn: "Is it a crime to leak classified information on the part of a government employee?"
Deputy Attorney General Cole: "Without going into all the details, generally yes it is Senator."
Cole Rules Out Appointing Special Prosecutor:
Cornyn: "Do you believe that a special prosecutor – a special counsel – would be warranted?"
Cole: "I don't believe that it would be necessary in this case, no."
The leaks appear to have formed the basis of two New York Times reports about the White House's role in classified national security efforts, one detailing the use of cyber warfare against Iran, and the other the use of drones to hunt and kill suspected terrorists.