Virginia Governor Race: The Perfect Snapshot of US Attitudes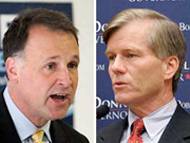 As Virginia's November 3 gubernational election is approaching, polls show Republican Bob McDonnell, a former state attorney, ahead of Democrat Creigh Deeds, a former state legislator, by nearly double digits. 
The contest between Republican Bob McDonnell and Democrat R. Creigh Deeds provides a snapshot of sorts — 12 months after America elected Barack Obama as president and expanded Democratic majorities in Congress, and one year before midterm elections in every state.
And the picture, in Virginia as in the nation, is not pretty for Democrats.
Republicans are far more fired up than Democrats, and independents who leaned left just a year ago are tilting away. Frustration over the status quo, fear of the country's direction, and disillusionment about political leaders span the ideological spectrum.
This is a very critical election and a bellwhether event. The democrats are running scared, and we need to encourage GOPers in Virginia to get out and vote.
But given Virginia's newfound swing-voting behavior, the McDonnell-Deeds outcome will be a key measure of how America feels and, perhaps more importantly, how independent voters are acting ahead of the 2010 elections. Independents will be critical as Democrats try to protect their majorities in Congress and pick up governorships in a number of states.
Here in Virginia, as well as in the wider U.S., Republican crossover voters and independents are breaking from the Democrats, partly because they're put off by Obama's government expansion and expensive policy proposals like health care. The question in Virginia is how they'll split between McDonnell and Deeds — if they turn out at all.
Both Bill Clinton and Obama are helping campaign for Deeds, but don't let Virginia get swept away in our president's sly-talking rhetoric!
Hey Virginia GOPers, this is Texas GOP Vote. We want y'all to get out and vote!