Voice of the Conservative Vote: JM Lozano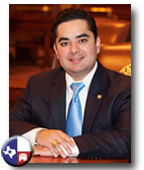 State Representative JM Lozano is running for re-election of Texas House District 43. 
JM Lozano is small businessman who has worked hard his entire life. He learned growing up here that everything had to be earned and that no one could guarantee your success in life. He worked his way through college and is teaching his young children this same work ethic and fiscally conservative philosophy, today.
As a small business owner, J.M. understands the hardships created by overreaching government regulations. They're job killers. As our State Representative, he has supported policies that help create jobs, end lawsuit abuse, and protect our local oil and gas industry. Because, as J.M. puts it, "if it were up to people like Barack Obama and his aggressive stand against oil and gas, many of the cities in our community would be ghost towns."
J.M. is a devoted family man, who's been married to his wife Abby for 10 years. They have three children, including a newborn they call, "the Valley's youngest Republican." Their family possesses a strong faith in God. J.M. is 100% pro-life. That's why his proudest endorsement in this campaign comes from Texas Alliance for Life, one of the nation's top pro-life organizations. In the last session of the legislature, J.M. and other conservatives voted against every single Democrat attempt to defeat the "sonogram bill" and they won.
Like you, J.M. also strongly supports our gun rights and our private property rights.
Conservative leaders across the state agree that J.M.'s re-election is what's best for Texas and the people of House District 43. His supporters include, Texas Attorney Greg Abbott, Governor Rick Perry, Texas Comptroller Susan Combs, Republican State Representative Jose Aliseda, Texans for Lawsuit Reform, the Texas Oil & Gas Association and many others.
Source: LozanoforTexas.com
Click to view this exclusive interview with State Rep. JM Lozano.
"A lot of South Texans have seen a tremendous transition in the Democratic Party that they once started in. It's no longer the same Party. They often say that if John Kennedy was alive today, he'd be a Republican, and that's resonating in South Texas. You're seeing that demographic shift." - JM Lozano