Voice of the Conservative Vote: Kira Davis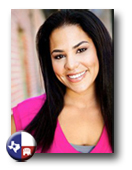 Kira Davis is an actress, writer, blogger and talker. She is also a mother, wife, proud American and black conservative who is concerned about the nation's shift away from traditional American values and Constitutional principles. Check out her site, kiradavis.net, which is a site dedicated to arguing and defending conservative values and principle in politics and pop culture.  Kira Davis hosts The Dark Side with Kira Davis on the CDNews Network on BlogTalk Radio.
Click to view exclusive interview with Kira Davis.
"I think that the worst kind of racism is the kind that cloaks itself in the mantle of social justice. It tells you - we're here to help you, but the help is hurt. It seems on the surface like it's good intentions - helping people get on their feet. It actually makes us dependent." - Kira Davis