Voice of the Conservative Vote: Louis Guthrie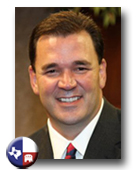 Louis Guthrie is a candidate for Harris County Sheriff. He was born and raised in Humble, Texas. His mother, a real estate broker, and his father, a retired State Trooper and businessman, raised Louis to understand the value of hard work, being a good neighbor, and fiscal responsibility. While at Humble High School, Louis lettered in both football and track and was twice elected Class President, as well as Parliamentarian and Vice President of the Future Farmers of America. After graduating from high school with honors courses, Louis continued his education and earned a Bachelor of Science degree in Criminal Justice from Bellevue University in Nebraska, earning the National Dean's List in his last four semesters.
Eager to express his support for our democracy, Louis became a registered voter at the age of 18 and has been an active voter in Republican Primaries and General Elections ever since. Understanding how vitally important it is to support Conservative values; he has worked in many Republican Campaigns in Harris County and throughout Texas. Since the announcement of Rick Perry's Campaign for US President, Louis is now CO-CHAIR for the Peace Officers for Perry PAC; a national effort to elect a Conservative Republican back to the White House.
Louis began working at the Harris County Sheriff's Office in 1991. While working his way through the ranks to Watch Commander, Louis received multiple commendations for his investigative work as well as community service as a RAD instructor. Louis was honored as a recipient of the "Officer of the Year" award from The 100 Club, as well as the National Sheriffs' Association "Medal of Merit" for life saving.
In 1993, Louis married his beautiful wife, Cheryl. Cheryl, who grew up in Splendora, is the daughter of a retired Peace Officer and has two brothers currently serving in law enforcement.
In 2001, Louis was appointed by the Harris County Commissioners Court and is currently serving as the Vice President of the Harris County Cultural Educational Facilities Finance Corporation. This board receives requests from educational and cultural non-profits, and hospitals, for financing growth and expansion as well as new centers that benefit the citizens of Harris County. Some of the groups helped include Methodist Hospital, St. Luke's Hospital, The Moody Foundation, assisted living facilities and many others, and all at NO COST to taxpayers.
In 2008, Louis successfully lobbied for better immigration policies in Harris County, including the 287(g) program which was adopted by the Harris County Sheriff's Office, as well as better voter accountability and voter ID requirements. Louis currently serves as the Director of Special Crimes and Narcotics for the Liberty County Sheriff's Office under Republican Sheriff Henry Patterson. Louis's current command involves investigating political corruption, special crimes and undercover operations that include the tracking and arrest of Mexican Drug Cartel, Aryan Brotherhood, and organized crime members.
"Attaining our Vision requires superior and continually improving performance in every area and at every level of the organization; it is a never ending pursuit of excellence. This pursuit requires hiring, developing and retaining a diverse workforce of the highest caliber… it requires the implementation of defined metrics and measurements to accurately judge success."