Voice of the Conservative Vote: Peret Pass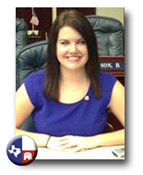 Peret Pass is the Chairman of the Florida Federation of Young Republicans. Peret Pass grew up in Jacksonville, FL, and has been involved in Florida politics since before she could vote.
In 2009, Peret founded the Jacksonville YRs which has since grown to over 280 dues-paying members– the largest YR club in Florida. Peret moved up the ranks quickly in FFYR first serving as Campaign Committee Chair in 2009, was elected in 2010 as National Committeewoman, and then unanimously elected Chair in 2011. Nationally, she has served on the Young Republican National Federation's campaign committee, YRNF Assistant Secretary, and in 2013 was elected unanimously as YRNF Vice Chairman At-Large. Additionally, she is heavily involved in the local Republican Party where she has served as the community outreach/special events chairman from 2009-2013 under Chairman Lenny Curry.
Peret has devoted her professional life to politics. The News Service of Florida named Peret one of the "Top 25 under 30 Rising Political Stars 2010" in Florida. In 2013, Saint Petersblog named Peret one of the "30 under 30″ rising stars in Florida politics. Peret owns her own political consulting firm named Pass Consulting Group and has also worked for JEJ & Associates, lobbying in the areas of healthcare, education and transportation.
Peret strongly believes in living one's values and is heavily involved in non-profit work. She serves as vice chair of the Shannon Miller Lifestyle Annual Women's 5K/Children's Fun Run which benefits the Shannon Miller Foundation, serves on the board for the local chapter of the American Cancer Society, and fundraises for local charter schools and The American Red Cross.
At 25, Peret is one of the top political consultants in Northeast FL and quickly becoming one of the top in the state.
"Politics is a contact sport, and you have to have confidence in yourself. This business can sometimes get personal and you need to be prepared to hold fast to your core values. During difficult times, or while under attack stay true to yourself and hold fast to that which you believe in the most." - Peret Pass