Voice of the Conservative Vote: Scott Field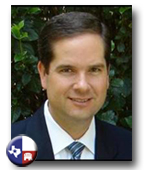 Scott Field has announced that he is running for election to the Third Court of Appeals in 2012, for the seat currently held by Democratic incumbent Diane Henson.
Career
Scott began his career by serving as a law clerk to Hon. Raul Gonzalez on the Texas Supreme Court, where he assisted the court in drafting opinions and in making recommendations on whether the court should accept review of appeals. He then began private practice at Baker Botts, L.L.P., where he practiced in the trial and appellate departments. There, he was mentored by legal legends like Hon. Joe Greenhill, Hon. Bob Shannon, and Larry York. He was also awarded Associate of the Year from the firm in 1999.
From there, Scott left to found York, Keller & Field, L.L.P., where he served as managing partner. Then, in 2007, he left to form The Field Law Firm, where he practices today, representing individuals and entities in a wide variety of trial and appellate matters.
Scott has handled cases in a full spectrum of jurisdictions, from the U.S. Supreme Court to various justice courts. He has argued appeals in the Fifth Circuit, the Texas Supreme Court, and numerous courts of appeals, including the Third Court. He is a member of the State Bar and Austin Bar Association's Appellate Sections and served on the Council of the Austin Bar's Appellate Section.
Background
A native Texan, Scott was born in Houston and grew up outside of College Station, where his father taught large-animal veterinary medicine at Texas A&M University.
Scott earned a B.A. in Political Science from Texas A&M University, where he graduated summa cum laude. He received his law degree from the University of Texas School of Law, where he graduated with honors and was named to the Order of the Coif. Scott's community activities have not focused only on the advancement of his career. Although involved in bar activities, Scott has focused on service-related projects and giving back to the community through his church and other organizations.
Scott's outreach activities have included providing meals to the homeless under the I-35 bridge, assisting with an overhaul of the playground equipment for families at the Ronald McDonald House, providing yard and home care for the elderly, and helping with the widows' ministry at his church.
One of Scott's passions is youth sports. He founded a basketball league called Hillcrest Hoops for fifth and sixth-grade girls and boys, which taught not only basketball, but also spiritual development and individual responsibility. He actively directed the league, coached in it, and refereed games, while providing scholarship assistance for underprivileged kids. He has also coached youth basketball, football, and soccer in leagues such as Upward Basketball, Hillcrest Hoops, Town & Country Optimist Club, Neighborhoods Sports, and through the YMCA.
Personal
Scott has been married to his wife and high-school sweetheart, Melinda, for 21 years. They have three sons, Harrison, who is 15, Carson, who is 13, and Keeton, who is ten.
Scott loves church activities and spending time with his family. He also enjoys golf, water and snow skiing, hiking, fishing, and playing or watching nearly any sport. Scott and his family are members of Austin Christian Fellowship.