Voter Fraud - There's an App for that!
It had to come... You probably even knew it was comming... and now, here it is! An app for your phone for tracking and reporting potential voter fraud! Is this a great country or what!?
An organization called American Majority Action (AMA) as released a FREE app for your phone to make reporting and tracking of potential voter fraud activities just a phone click away! 
The AMA describes itself as is a non-profit organization "dedicated to helping the grassroots compete against career politicians and a political establishment organized against new participation. We believe in the free market, American individualism and the belief that when American citizens engage in the political arena, real change happens."
Being a "gadget geek" I just had to look...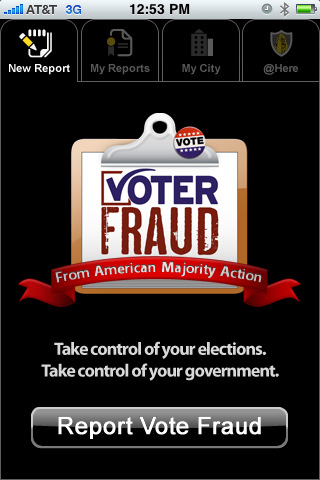 Easy to Use Image Capture
Pre-Populated Report Types
iPhone, Blackberry (BB), Android Apps, Free to Citizens
Over 10 Issue Report Types (Intimidation, Campaigning to Close, etc.) Issue Management Console for Election Officials
APIs for Service Integration
Notifications to Officials by Report Type
Notifications to Officials by Geography
Export Raw Data as XML, KML, CSV
Voter Fraud News Tab for Citizens
Auto Notify Citizens of Issues Resolved
Web Widgets with Map, Feed, and Photo Carousel Views
Online Voter Fraud Resources
Dedicated Landing Page at VoterFraudApp.com
And there you have it. From observation to national exposure in just a few phone clicks! How handy is that!?
If you don't have this handy little app on your phone you can always do it the old fashioned way and send me the report and I will write about it...  How boring is that!?
Check it out for yourself and join the growing army of voter fraud watchers today! The only thing you have to lose is...  YOUR COUNTRY!