Voting is Not a Popularity Contest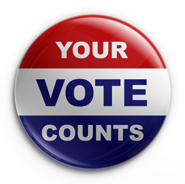 "I really like candidate X, but I won't support him/her because they can't win…"
How many times have you heard someone say that? Many people believe that our thoughts and our words create our reality. Whether that is true or not, I can tell you the words quoted above have created the reality of our political world today.
Too many times people confuse elections with popularity contests. They are not! Elections are battles over ideas, ideals and principles! They shape how the policy of our communities, state and nation, are created and implemented. They determine if your taxes will be raised. They determine if your money will be wasted or spent wisely. They determine who will sit in judgment over you in legal cases. They determine who will educate your children and how they will be taught. They determine the future of your life and the lives of your children and grandchildren.
Yet, we continue to support candidates who do not believe as we do, or who have proven themselves to be spineless compromisers of principle. The Houston mayor's race is a prime example of this. Last month there was but one conservative candidate in the race for mayor of Houston. In one of the most conservative counties in this country, only one conservative candidate for mayor of its largest city. That candidate was Roy Morales.
I attended many political functions over the past year and Roy was at EVERY one of them. Shaking hands, talking to people, listening to their concerns…. and yes, asking for their money. People shook his hand, thanked him for running and basically patted him on the head. I would ask many of them, "Will you support Roy Morales?" Almost to a person, they admitted they would be voting for him but they wouldn't publically support him because "he couldn't win". I spoke with radio talk show hosts and asked for their support of this candidate… "what's the point. He can't win!". Over and over I kept hearing people choose popularity over principle… Yet, this man who "couldn't win" nearly did. In a race where less than 20% of registered voters voted, in a city of over 3 million people, the difference between being in the run-off and going home was less than 5,000 votes.
So I ask you… If conservative voters had supported the candidate who best reflected their principles, would Morales have won? That we will never know. But we do know that it would not have taken much of a Conservative surge to make up 5,000 votes. Could some money backing a conservative candidate have helped? Could some timely radio promotion by conservative talk show hosts have helped? Could a few more block walks in Conservative neighborhoods have made a difference? I believe it could and would have made a difference!
We have an opportunity to learn a lesson from this. In March, 2010, the Republican Party will offer up a slate of candidates from governor to county officials. What will you do? Will you research the candidates and find true Conservatives to fill these slots? Will you back the candidate who best reflects your principles, regardless of whether they "can win"? Or, do you just want to be able to say you voted for the winner like there is some kind of prize for that?
The race for the Republican nominee for Governor of Texas has two strong, well recognized names. Rick Perry and Kay Bailey Hutchison. Both have a proven track record of winning elections. Both also have a track record of abandoning Conservative principles for the sake of political advancement or expediency. Will you continue to give them your support or will you say it is time to vote for a principle of Conservatism and support someone like Debra Medina?
The Woodland's Congressman Kevin Brady abandoned his Conservative principles by twice voting against the will of his district in support of reckless TARP spending. Billions of your taxpayer dollars wasted for a political favor… Will you give him a chance to turn his back on you again? Or, will you support a Conservative candidate like Tyler Russell?
Ron Paul has sat in Congress for many terms. Accomplishing little and abandoning Conservative principles of a strong national defense and foreign policy. He has some great ideas but can get none of them passed because he cannot build a coalition. Will you continue to support him? Or, is it time to consider a Conservative candidate like Tim Graney?
How many more races are there like this? Places where we have an opportunity to replace incumbents who have abandoned Conservative principles? Will you take the opportunity and back principle over popularity? If you know of Conservative candidates who are running against incumbents who have abandoned Conservative principles, please let me know so we can talk about them!
When you cast your ballot in March, no one will know how you really vote. Only you can look in the mirror and tell yourself you voted for your principles. Do you like what you see?