Weekly Jobless Claims Report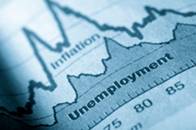 Texas initial jobless claims for the week ending July 3 fell 3.2 percent to reach 18,758. Continued claims (those receiving benefits for two weeks or more) increased by 5,000 to reach 214,834. That is 28.1 percent lower than a year ago.
Nationally, initial claims for the week ending July 3 declined by 21,000 from the previous week to reach 454,000. The four-week moving average, a steadier gauge of claims activity, is now at 466,000. Continued claims on the national level fell 4.8 percent to 4.413 million. Frank Ahrens of the Washington Post writes:
One of the reasons that fewer people applied for unemployment last week was U.S. automakers. The Big Three are not shutting down production as much as they typically do in July. So those workers are still in jobs.
Economists say that the economy cannot start meaningful new job creation until the number of new weekly jobless claims gets down into the low 400,000s and stays there. The weekly number has refused to budge past the mid-400,000s.