Who Will Be The Next RNC Chairman? Watch Today's Live Debate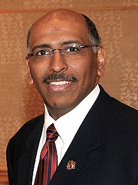 This cycle's contest for the RNC Chairmanship could get heated. With incumbent Chairman Micheal Steele facing four challengers, today's debate has the potential for fireworks.
Steele, who is under criticism for his financial management of the RNC, is facing challenges from Reince Priebus, Chairman of the Wisconsin GOP; Missouri GOP Chairwoman, Ann Wagner; former Michigan GOP Chairman Saul Anuzis; and former deputy RNC Chairwoman Maria Cinos.
Interestingly Gentry Collins, former RNC political director under Steele, dropped out of the race yesterday. Collins was one of Steele's critics speaking out, accusing Steele of mismanaging funds during his tenure. In a scathing resignation letter, leaked to the press shortly after the 2010 mid-term elections, Collins chastised Steele for tapping out the RNC's $15 million line of credit, and for failing to be an effective fundraiser.
Today's debate is presented by The Daily Caller and Americans for Tax Reform. Readers can stream the deabte live at www.rncdebate.org, or watch the debate on CSPAN at 12:00 Noon, Central Time (1pm Eastern).