Why Adela Garza is the Right Candidate to Represent Texas Congressional District 34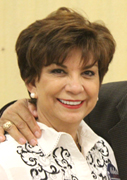 Adela Garza is a longtime resident of the Rio Grande Valley and a true servant to her community.
Having served on various school and community boards on a volunteer basis, it is clear she understands the uniqueness of the South Texas culture and has the experience and knowledge to represent our district in Washington. As a small business owner, she knows how to balance a budget and make tough cuts to spending.
Adela is a fighter for conservative values and is not afraid to go against the grain for what she believes is best for the people she serves.
I will be casting my vote for Adela Garza in the primary on May 29 and urge all CD-34 voters to do the same. Garza is the only Republican on the ballot who can win the district in November!
---